Carolina remains undefeated; coach Ron Rivera now worried about injuries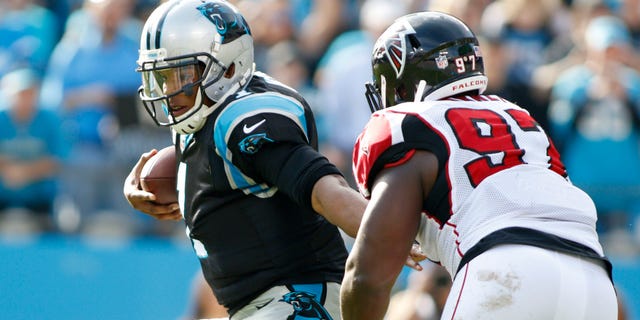 CHARLOTTE, N.C. (AP) – The biggest challenge Carolina Panthers coach Ron Rivera may face heading down the stretch is staying healthy.
The Panthers (13-0) remained unbeaten and secured a first-round bye in the NFC playoffs with a 38-0 rout of the Atlanta Falcons on Sunday, but had several players go down with injuries.
Cornerback Bene Benwikere broke his left leg in the fourth quarter and is out for the season. Benwikere, normally the team's nickel back, had been starting the past four weeks with Charles Tillman out with a knee injury. Tillman could return next week.
The Panthers may look to their practice squad to find a replacement for Benwikere.
Tight end Greg Olsen and running back Jonathan Stewart didn't play in the second half after sustaining injuries. However, coach Ron Rivera said both players should be fine and could have returned to the game but he elected to keep them out with the Panthers holding a 28-0 lead at halftime.
In fact, most of Carolina's starters were out of the game in the fourth quarter.
The Panthers can wrap up the No. 1 seed next weekend with a win over the New York Giants and an Arizona loss.
If that happens it would give them two weeks to play meaningless games and give Rivera a decision on whether to play starters and go for an undefeated season.
"The biggest thing is we have to take care of business," Rivera said. "Each game is significant as we go forward. This one game is a guaranteed home-field game, at least one and the bye. Next week, who knows what that'll mean, but we're going to play next week obviously to win the football game and see whatever happens. We have to take each week as it comes is the only way we can do it. I can't predict what next week's going to mean and the week after and then the last game, so we have to take them each one at a time and we'll see what the Giants' game means."
Five things we learned from the Falcons-Panthers game:
NEWTON TOUGH TO STOP: Panthers quarterback Cam Newton is clearly in a zone with 13 touchdown passes and only one interception in the last four games.
The fifth-year quarterback completed 15 of 21 passes for 265 yards and three touchdowns and posted a career-high QB rating of 153.3.
"He's really developed into the type of quarterback that we're hoping to have," Rivera said. 'He's got a great feel for things and his reads and decision making has been really good this year. I really like his confidence throwing the ball across the middle with his guys. And again, it really is about having confidence that you can put the ball where you need to and a guy is going to go get it."
NOT SHORT ON PRESSURE: Panthers defensive tackle Kawann Short continues to dominate in the middle of the line, recording his eighth and ninth sacks of the season. Short forced two Matt Ryan fumbles, one that resulted in a turnover. The other led to a 26-yard loss early in the game and took the Falcons out of field goal position.
Short attributed his success to the cohesion on the defensive line, saying "you come in and you're not worried about the guy that's behind you and come in and be dominant as well. This defensive line is something special and we're like brothers, no matter what."
NO DEEP THREAT: Despite the presence of Julio Jones, the Falcons don't seem to have a deep threat. Atlanta's longest pass play through the first three quarters went for 14 yards.
STILL RUNNING: The Panthers extended their streak of 100-yard rushing games to 24 straight games behind 75 yards in the first half from Stewart. Carolina's formula starts with the ground game, and Stewart is the one that spearheads that attack.
RYAN STRUGGLES: Matt Ryan's struggles have been well documented this season and they only continued against the stingy defense that forced four turnovers and registered five sacks.
"When you score zero points, clearly, we're not doing our job," Ryan said. "We're not doing it well at all. To me, it means we need to find a way to get better, and we need to find a way to get the ball into the end zone. We need to do that now."