Carmelo Anthony Comes Unhinged After New York Knicks Loss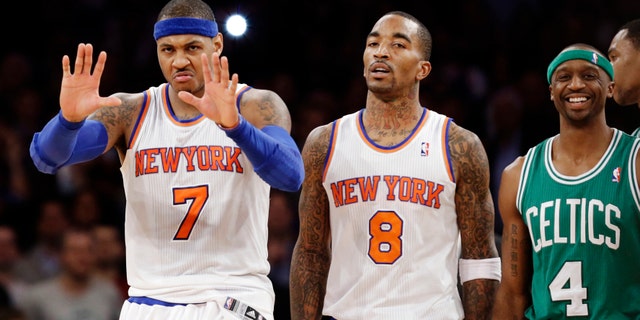 New York – A bad game for the Knicks turned ugly after the final whistle, as Carmelo Anthony lost his cool.
In the heated first meeting of the season between the Atlantic Division rivals, Boston beat New York 102-96.
Anthony and Kevin Garnett jawed from baseline to midcourt, and Anthony still had more to say So the Knicks forward went toward the Celtics locker room after the game to keep shouting, taking his frustrations from the court right along with him and perhaps risking an NBA suspension.
Listen, heat of the battle, man. Guys go back and forth. He's trying to get his team to go, I'm trying to get my team to go, both teams are colliding, not to mention that it's the Knicks and the Celtics.
Anthony left without talking to reporters and the Knicks wouldn't comment on Anthony's postgame trip in the wrong direction, but Celtics coach Doc Rivers didn't deny it.
"I'm going to let you all figure that one out. I'm going to stay out of that," Rivers said. "If it was the playoffs I'd tell on him, but since it's not I'm going to just be quiet."
Rivers didn't need to. MSG Network reported the incident, in which security had to step in and send Anthony back in the right direction, as it went to its postgame show, and the league likely will investigate and could penalize the Knicks' leading scorer.
Comcast SportsNet New England posted a video on its website showing Anthony waiting near the Celtics' team bus after the game, with coach Mike Woodson and New York City police nearby.
"I didn't know what was going on at that point in time," Knicks forward Amare Stoudemire said. "It's strictly basketball. We have to keep it on the basketball court and make sure we come to play every night. Boston will definitely bring the intensity and aggressive play. We got to be able to match that."
Garnett added 19 points and 10 rebounds for the Celtics, who even without the suspended Rajon Rondo won their third straight and finally are playing like the team that has ruled the division for the last half-decade.
The Knicks want that title now, but Anthony and his teammates were reminded how tough the Celtics can make it.
Anthony had 20 points but shot 6 of 26 while battling his temper, Garnett and foul trouble.
Garnett denied the postgame altercation.
"Listen, heat of the battle, man. Guys go back and forth. He's trying to get his team to go, I'm trying to get my team to go, both teams are colliding, not to mention that it's the Knicks and the Celtics," Garnett said. "Just what it is, man."
J.R. Smith led the Knicks with 24 points. Tyson Chandler had 13 points and 17 rebounds.
Rondo was suspended Monday for making contact with a referee in a game against Atlanta on Saturday and failure to cooperate with an NBA investigation. Without the NBA's assist leader, the Celtics relied on the kind of defense that has been absent too often this season.
Listen, heat of the battle, man. Guys go back and forth. He's trying to get his team to go, I'm trying to get my team to go, both teams are colliding, not to mention that it's the Knicks and the Celtics.
They allowed 78 points per game in their last two wins, then held the Knicks to 40 in the second half Monday.
Pierce, who was also in foul trouble in the tightly and sometimes inconsistently called game, put it away with a jumper with 45 seconds to go, blowing a kiss toward the crowd he loves to torment after putting the Celtics up by six.
Anthony had averaged 34.4 points in his last 10 games and had a pair of 40-point performances last week, but his jumper was off from the start Monday as the Knicks had their two-game winning streak snapped.
"They took us out of a lot that we wanted to accomplish out there," said Chandler, who said "nothing" happened after the game.
"Very physical on the ball," he said. "Forced us to take some tough shots."
Boston led by four when Anthony and Garnett became extra physical with each other on a Boston possession that ended with a turnover with 9:03 remaining. Anthony followed him all the way to midcourt as they jawed at each other following the play, leading to technical fouls on both players.
The trash talk didn't just stay on the court — or between players. Pierce tried to throw the ball in from the sideline shortly after, only to have Spike Lee standing and yelling in his ear the whole time.
"I've been tuning Spike Lee out for years," Pierce said. "That's just common noise now."
Jason Kidd's 3-pointer tied it at 86, but Pierce dunked and Avery Bradley made a jumper for a four-point lead with 5:32 to play. The Knicks got it to one before Pierce's jumper with 3 ½ minutes to play, and the Knicks never got that close again.
The Celtics have won the last five Atlantic Division titles, starting with their NBA championship season of 2007-08. But while Rivers often says he never talks to the players about winning the division, Woodson has made it a priority since becoming interim coach last March.
They couldn't catch Boston last season but had opened a 4 ½-game lead over Brooklyn and were seven games up on the third-place Celtics entering Monday's play.
"Our goal is bigger and so are the Knicks', I'm sure, but maybe that's part of their goal and that's their first step," Rivers said of the division title. "But our goal is always bigger than that."
They've only recently begun to play like that could attain it.
Rondo had his second triple-double of the season Saturday to rally the Celtics to an 89-81 victory in Atlanta, but his actions during the game kept him from the arena Monday. Bradley, recently back from shoulder surgery, helped the Celtics overcome his absence with 13 points. Jeff Green had 16 off the bench.
Anthony and Pierce both picked up two fouls in the first 4 ½ minutes, Pierce getting a technical as well on his way to the bench. The early fouls, and some extra intensity, kept either team from getting in much of a flow, though New York did build a 10-point lead that Boston wiped out on its way to a 22-21 lead after a period in which they combined to make 13 of 35 shots.
The Knicks had the lead back to nine in the second, but Pierce scored 15 points in the period as Boston got within 56-53 at the break.
Boston scored seven straight late in the third quarter to open a six-point lead, held the Knicks to 6-of-17 shooting in the period and led 76-72 headed to the fourth, when the fireworks started.
Based on reporting by the Associated Press.
Follow us on twitter.com/foxnewslatino
Like us at facebook.com/foxnewslatino