Cardinals look to play cleaner game in finale vs. Red Sox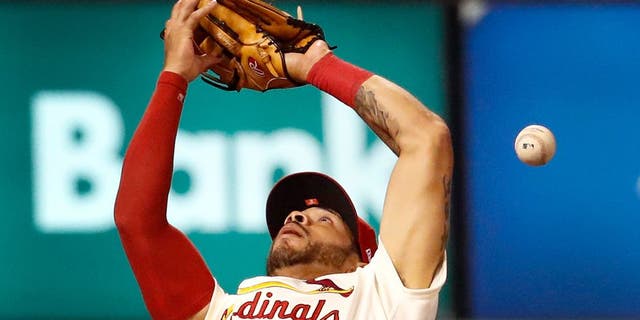 ST. LOUIS -- Bad games can't linger for very long in the major leagues.
"The beauty about baseball, win or lose, is you have to play another game the next day most times, so you have to wash it away," said Cardinals pitcher Lance Lynn after St. Louis' 6-3 loss to the Boston Red Sox on Tuesday night.
The Cardinals will try to do just that when they play the Red Sox again on Wednesday night in the final game of a quick two-game series.
Mike Leake will get the start, only his third career appearance against the Red Sox. He is 0-1 in two starts vs. Boston, both coming in 2014.
There are only three hitters on the Red Sox who have eight or more at-bats against Leake. Hanley Ramirez, likely limited to pinch-hitting duty in this series, is 4-for-9 vs. the right-hander. Chris Young is 1-for-8 and Mitch Moreland is 2-for-8 off Leake, who is 4-2 for the season with a 1.94 ERA.
The fact the Red Sox have not seen much of Leake won't provide much of an advantage for the Cardinals, however, because they have about the same level of experience against Rick Porcello, who will start for the Red Sox.
Porcello also has made only two career starts against the Cardinals, one coming in 2009 and the last five years ago, in 2012. He was 1-1 in those two games. There are only four current Cardinals who have had an at-bat against Porcello: Dexter Fowler and Yadier Molina are each 2-for-6, while Matt Adams and Jedd Gyorko are each 1-for-3.
Porcello, the reigning American League Cy Young Award winner, is only 2-5 this season with a 4.01 ERA.
His last time out, Porcello gave up five runs (three earned) in six innings against the Tampa Bay Rays on Friday.
"Just two innings where I didn't make pitches with runners on base and I ended up getting hurt by it," he said.
No matter who is pitching, the Cardinals know they will need to avoid the mistakes they made Tuesday night if they hope to split the series. St. Louis was charged with three errors, leading to three unearned runs, and also failed to record an out when it had a runner picked off first but he was able to slide around the tag by Aledmys Diaz at second for a stolen base.
That play led to a two-run inning that featured more trouble for beleaguered Cardinals left-handed reliever Brett Cecil, who walked two left-handed batters, the only two batters he faced before he was pulled from the game.
"Part of it is he comes in and makes a perfect pickoff and we have the guy out by two steps and he pulls a Houdini act to get in safe at second base," manager Mike Matheny said of Xander Bogaerts' slide. "That's kind of how things roll when you're having trouble getting on a good roll. He's just going to have to keep fighting through this. I know he's not where he wants to be right now."
Matheny admitted he might have to look for less pressurized spots to use Cecil, who signed a four-year, $30 million contract as a free agent over the winter. Cecil has a 5.79 ERA and has allowed 10 of 17 inherited runners to score.