Cardinals are latest team to recognize Lions' plays before snap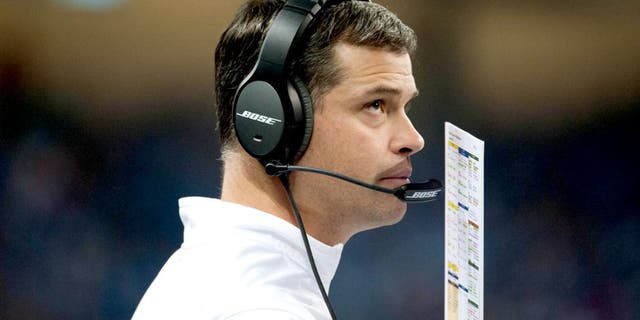 NEWYou can now listen to Fox News articles!
Detroit Lions wide receiver Golden Tate has complained about opponents honing in on their offensive plays this season, and Sunday's game against the Arizona Cardinals seemed to corroborate his claim. The Lions couldn't get anything going and turned the ball over six times during their 42-17 loss in Week 5.
One of those turnovers was an interception on a well-read screen pass. Cardinals defensive line coach Brentson Buckner recognized Detroit's formation, according to Justin Rogers of MLive.com, and he was able to alert end Cory Redding in time for him to pick off Matthew Stafford's poorly disguised play.
"Buck called it out from the sidelines, 'Screen! Screen!' He saw the formation, saw the guy crossing," Cardinals head coach Bruce Arians said, per MLive.com. "We still have to catch it."
Arians called it a "lucky guess," according to the MLive.com, but this is becoming a trend for the Lions. Offensive coordinator Joe Lombardi has had his play-calling duties called into question, but head coach Jim Caldwell has been reluctant to pull them.
However, if the Lions want to win a game this season, the 0-5 squad must consider some drastic changes sometime soon.
MORE NEWS: Want stories delivered to you? Sign up for our NFL newsletters.