Canucks' GM asks for 'level playing field'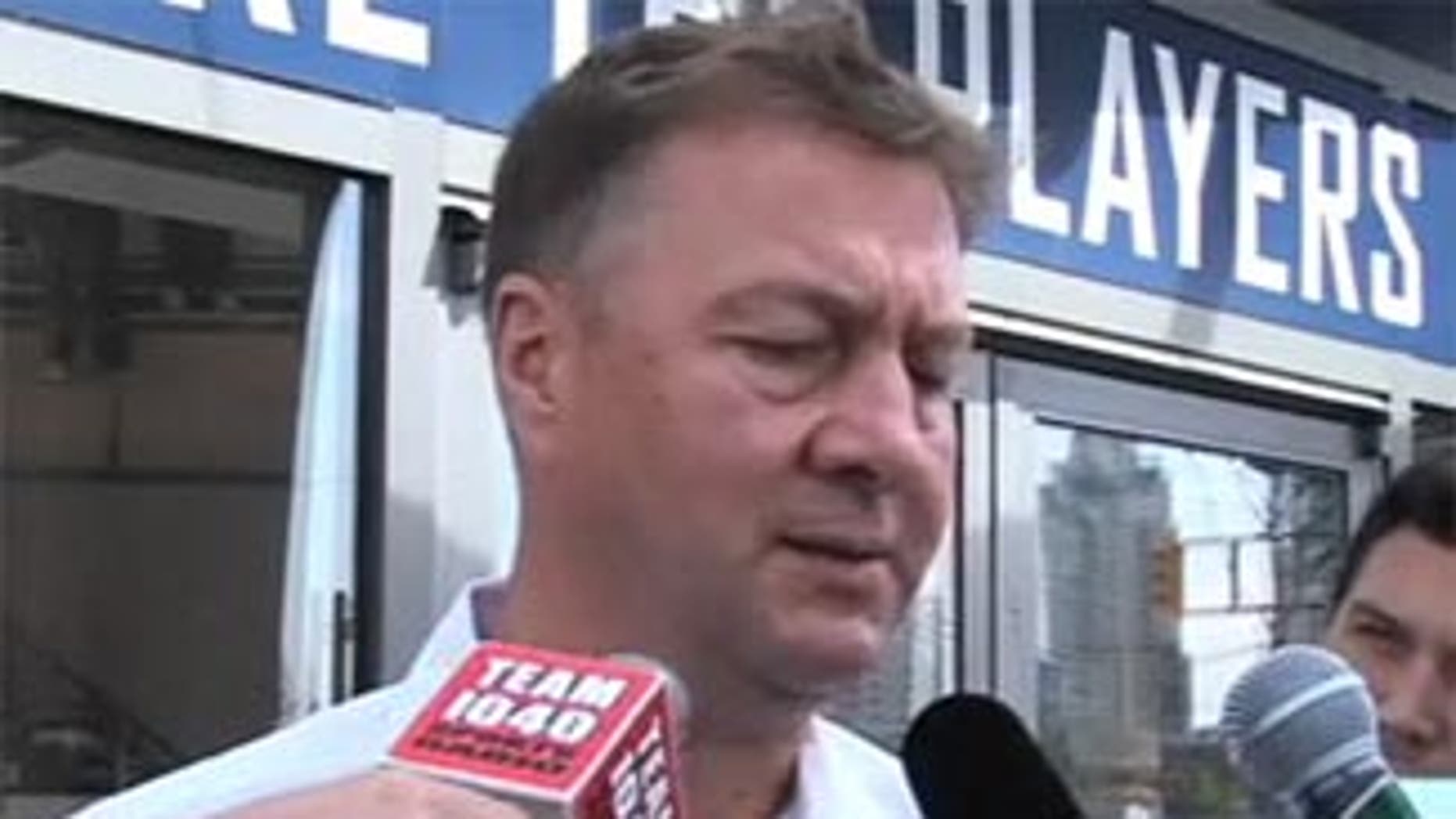 VANCOUVER -- Vancouver GM Mike Gillis said he believes the Canucks would have won Game 6 in Chicago and can win Game 7 at Rogers Arena on Tuesday as long as they have "a level playing field."
Gillis, speaking in front of the full gathering of media for the first time in the playoffs, never raised his voice and was very calculated in his comments as he referred to his frustration with the officiating in the series. He read off a sheet he was holding when he stepped in front of the media outside the Canucks' dressing room.
Gillis claimed Chicago has had 59 percent more power plays than Vancouver in the series, including 69 percent more in Games 3-6. He also claimed that in the last four games when the score has been close, between a one- or two-goal difference, Chicago has received 100 percent more power plays than the Canucks plus one penalty shot.
The Blackhawks are 6-for-27 on the power play in the series while the Canucks are 4-for-16. The Blackhawks have scored all their power play goals on 22 chances over the last four games while the Canucks have converted on three of 12 chances since Game 3.
"I'm not sure how you explain that discrepancy, but we're going to be very hard-pressed to win hockey games if throughout an entire series when the score is tight, they get 75 percent more power plays than we do," Gillis said. "And that's just the reality. That's the facts that we're facing. You look at the game (Sunday) night, you guys all watched it, you don't need me to comment about what occurred in that hockey game. But when you break down the video, there are some extraordinary plays to explain given what's gone on."
Gillis seemed particularly agitated that Bryan Bickell did not receive at least a charging minor for his hit behind the net on Kevin Bieksa in overtime. He said it was very similar to Raffi Torres' hit on Brent Seabrook behind the net in Game 3, and Torres received a two-minute minor for interference on the play.
"The Torres hit was determined to be an interference call. Their team called for him to be suspended for multiple games, all kinds of people called for him to be suspended for multiple games," Gillis said. "In my opinion that hit (Sunday) night was clearly a charging play. His head was targeted. The full whiplash effect from that hit, so the only contact was with his head initially. Minimum, minimum it was a charging penalty on that particular play, but they saw it the way they saw it."
Gillis said he has brought up his complaints with the proper executives within the National Hockey League. He flatly denied that he was making these comments to let any of his players off the hook for losing the last three games, but it did appear he was trying to change the storyline going into Game 7 by putting the onus on his frustration over the officiating and not what was happening with his team.
The Canucks were ahead 3-0 in the series, but lost Games 4 and 5 by a combined 12-2. Game 6 was tight and went to overtime after Vancouver blew three one-goal leads, but Ben Smith scored for the Hawks to send the series back to Vancouver for Game 7.
Chicago had twice as many power plays as the Canucks in Game 6 (4-2) but neither team converted. Chicago did score on a penalty shot that was called when Dan Hamhuis brought down Michael Frolik early in the third period, but Canucks coach Alain Vigneault said following the game that it was a good call.
"These are facts. They're undeniable," Gillis said. "The first two games everything is relatively equal, the last four games they haven't been. And when people seem to think we don't have the killer instinct, it's pretty tough to have the killer instinct when you're killing penalties most of the time.
"Our power play was No. 1 in the League and theoretically we felt there were six or seven legitimate calls that weren't called for whatever reason. That's six or seven power-play opportunities for us. It's going to change the outcome of the game."
The Canucks' players and Vigneault did not join Gillis in showing frustration with the officials. They felt it best to focus on the task at hand and let Gillis worry about the complaints.
"I'm not going to touch on that. Our players and myself, we need to be focused on the process, putting a good game on the ice," Vigneault said. "I understand Mike's frustration. When Raffi Torres hit Seabrook, there was almost a national debate on whether he should play another game this year and we even had media from our media suggest that if the League doesn't suspend him we should suspend him. Well, the hit on Kevin (Sunday) night was the exact same hit and they didn't even get a minor and nobody brought it up so I understand his frustration. But, as far as us coaches and players, there's nothing we can do about that and we just have to go out and play."
Regardless of his complaints, Gillis still believes in the group. But, he also feels they haven't had a chance to show how good they can be yet.
"We were lucky to get into overtime the way things occurred during the game (Sunday night)," he said. "We directed 85 pucks at their net. If we had had any power plays whatsoever it probably could have been a hundred. We've had the best team during the regular season and that was the best game they've played during the whole year. And, so, for us to come away with a loss is shocking to me.
"I'm very confident that if we play the same way (Tuesday) night and it's a level playing field we'll win the game."
Follow Dan Rosen on Twitter: @drosennhl