Canadiens G Condon gives nod to Massachusetts roots for Winter Classic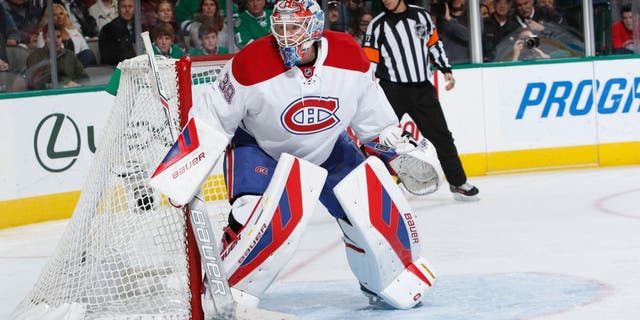 FOXBORO, Massachusetts -- Montreal goaltender Mike Condon has a New England-centric mask for Friday's Winter Classic against the Boston Bruins on New Year's Day.
A native of Holliston, Massachusetts, Condon grew up as a New England Patriots fan who used to watch from the bleachers at Gillette Stadium to cheer on the home team. Now that he's about to take that field himself as a member of the opposition, Condon could not resist honoring the Patriots on his mask.
Swedish goalie mask artist David Gunnarsson designed Condon's mask and painted an image of New England coach Bill Belichick, Tom Brady, four Vince Lombardi trophies (for the four Patriots Super Bowl wins) and Pats team motto "Do Your Job."
The mask was an instant hit on social media in New England, and it garnered a few compliments from the Bruins' locker room.
"That's a pretty Boston move of [Condon]," said Bruins forward and Dorchester native Jimmy Hayes. "I'm not surprised at all. He's pretty cool. He's very proud to be from here. He's a great kid and he's having a great year for himself. It's pretty cool that he did that."
Bruins rookie Frank Vatrano, who hails from Massachusetts' East Longmeadow, agreed.
"That's what Boston sports fans do," Vatrano said. "I know he's a local guy so that's pretty cool. It's pretty cool for him to be getting a start and having that on his helmet, it's cool to see."
The Patriots are more than a hometown team for Condon. The goalie's father, Ted Condon, is a sergeant with the Massachusetts State Police who used to work security details for the Patriots. On Thursday, the elder Condon worked the escort detail for the Canadiens instead.
"Today he had the opportunity to escort the bus, so that was pretty funny to see him with the bus down to Foxboro," Mike Condon said. "Tomorrow, he definitely has a day off. So he'll be tailgating."
The 25-year-old Condon knows all about tailgating at Gillette Stadium. After all, he used to come to Foxboro to watch Patriots games from the nosebleed seats. But while his father enjoys the day off on Friday, Condon will be busy at work in the crease for the Canadiens while Montreal star goaltender Carey Price will miss the Winter Classic with an injury.
And while Condon currently shares netminding duties with recently-acquired Ben Scrivens, it is the Massachusetts man who will get the start in front of his family and friends.
Though Canadiens coach Michel Therrien said Condon's start was not merely a homecoming gift.
"He did really well the last two games, and we got to consider too the fact that he is from here," Therrien said. "But the most important thing is he deserves to play [tomorrow] because of the way he's been playing the last two games."
Condon earned a win in his most recent start after stopping 36-of-39 shots he faced in a 4-3 shootout win over Tampa Bay. He was a hard-luck loser in the start before that in a 3-1 loss to the Washington Capitals on Dec. 26.
But on Friday, Condon will simply be the New England boy from the bleachers who is now the Montreal goalie on the ice. And he said the unique opportunity is one to treasure.
"While you're up there, you're going ... now you're down here, it puts things in perspective," Condon said. "So it's just kind of nice, and I'm happy to be here."