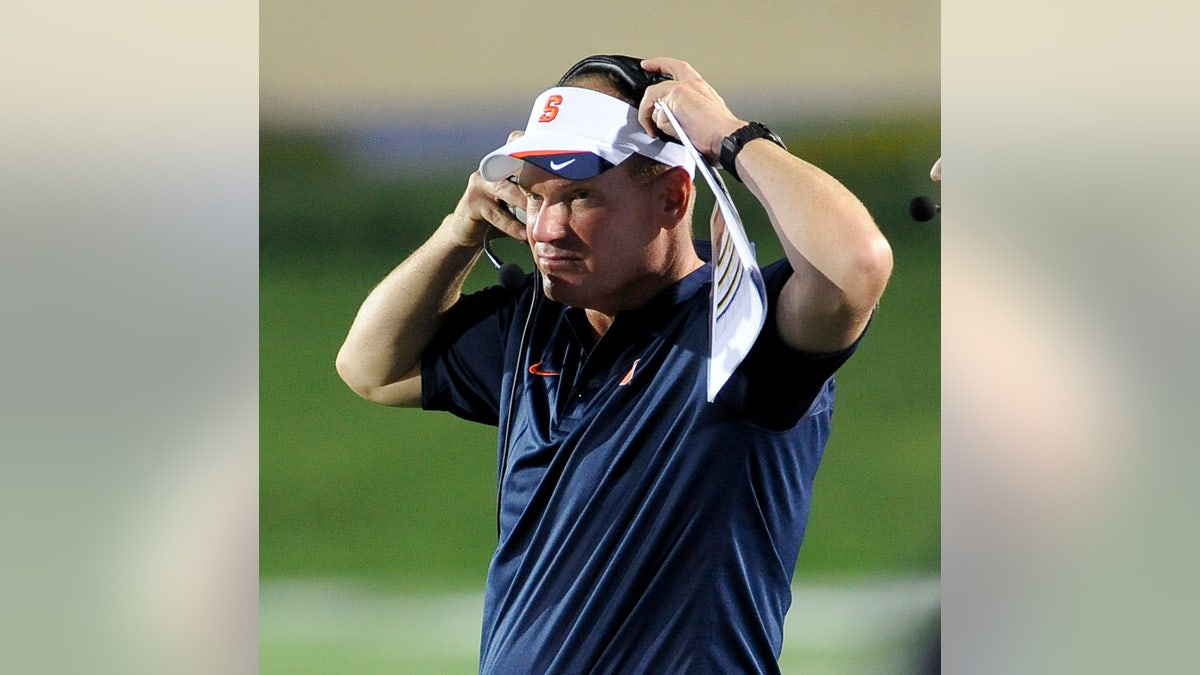 SYRACUSE, N.Y. – Bye weeks can be good and bad — good because it gives players time to heal, bad because it can let their minds focus on the wrong thing.
Nobody knows that better than Syracuse's Scott Shafer.
"All losses hurt. All losses you feel bad about," Shafer said Tuesday. "When you have a bye week, it has a tendency to linger."
Imagine trying to put a 56-point road loss in the rearview mirror with all that extra time before the next game.
"Usually, you go in on Sunday, look at the tape, review it, make the corrections and then turn the page, get started on the next opponent — and it's right there, " Shafer said. "A bye week after a game, you slow down a little bit, critique yourself even more heavily. You have that lingering effect. You go back and you see it again and again."
Ouch!
Georgia Tech (4-3, 3-2 Atlantic Coast Conference) crushed the Orange 56-0 on Oct. 19, ending a three-game losing streak by compiling 482 total yards, including 394 yards rushing. The Yellow Jackets had 67 rushing attempts and threw only five passes, and they were not called for a penalty, while the Orange were whistled nine times for 91 yards.
Not exactly the way the Orange (3-4, 1-2) wanted to enter their second bye week of the season. After losing 49-14 at home to then-No. 3 Clemson, Syracuse had won its first road game as a new member of the ACC, beating North Carolina State 24-10 the week before the Georgia Tech debacle.
Still, Shafer said the extra week off before Saturday's home game against Wake Forest (4-4, 2-3) has enabled quarterback Terrel Hunt to get a good look at his mistakes. Since replacing Oklahoma transfer Drew Allen as the starter, Hunt has struggled after a brilliant start to the season.
"It does come at a good time," Shafer said of the bye. "It's a chance to slow down, look back at all the plays, the small things that become big things on game day. He's been up here studying every play. It's a chance to kind of settle it down, look at it and show him how close he is to meaningful throws that could be big plays for us.
"It's a good time to reassess where he is and understanding what we're trying to get done."
Against the Yellow Jackets, Hunt was 7 of 14 passing for 68 yards with an interception and also lost a fumble. Allen took over in the second half and completed 6 of 15 passes for 65 yards and an interception.
On the season, Hunt is 58 of 101 for 662 yards and seven TDs with six interceptions, while Allen is 63 of 113 for 637 yards and two TDs with eight picks. Hunt also has rushed for 234 yards, averaging 5.6 yards, and scored three times.
Perhaps most disturbing against Georgia Tech was the failure of the run game, which ground to a halt after two straight solid performances: against Clemson, the Orange had 323 yards rushing on 48 carries, a 6.7-yard average; against N.C. State, Syracuse rushed for 362 yards, averaging 9.1 yards per carry behind Jerome Smith (19 carries for 140 yards), Prince-Tyson Gulley (9 for 132), and Hunt (11 for 92). Against the Yellow Jackets, Syracuse was held to 75 yards on 26 carries and 208 total yards, with Smith leading the way with 11 carries for 43 yards.
Shafer said Smith and Gulley would continue to handle most of the work.
"Our two workhorses are veterans who have been around a long time," Shafer said.