Burrows Lifts Canucks Into Next Round With OT Goal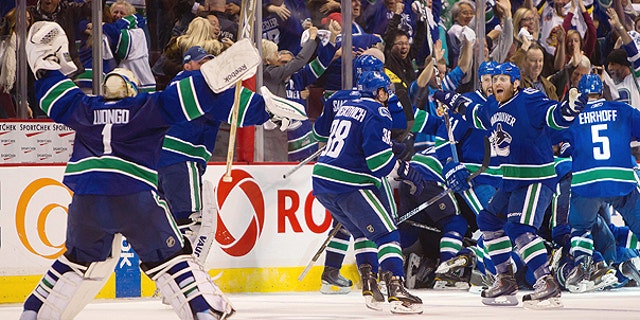 VANCOUVER, British Columbia -- Nothing ever comes easy for the Vancouver Canucks against the Chicago Blackhawks, and Game 7 was no exception.
Alex Burrows wouldn't have it any other way. To him, finally knocking off the defending Stanley Cup champions makes the victory that much sweeter.
Burrows scored his second goal 5:22 into an overtime that he started sweating in the penalty box, and the Canucks avoided a historic playoff collapse by knocking Chicago out in the first round with a 2-1 win on Tuesday night.
In a game filled with drama and playoff ghosts for a Canucks team that had been knocked out of the last two playoffs by the Blackhawks, Chicago captain Jonathan Toews scored his first goal shorthanded with 1:56 left to force overtime.
But a couple minutes after Roberto Luongo slid across to rob Patrick Sharp on the power play, Burrows pounced on a Chris Campoli turnover and fired a slap shot over the right shoulder of rookie Chicago goalie Corey Crawford.
"I think it feels even better getting it done this way," said Burrows, who opened the scoring 2:43 into the game. "We didn't make it easy on ourselves."
If the goal was in-game redemption for Burrows, who failed to convert a penalty shot 21 seconds into the third period, the game was a resurrection for Luongo. Pulled from Games 4 and 5, and benched to start Game 6 after being lit up and knocked out by Chicago two straight seasons, he finished with 31 saves.
"The last three or four games I feel I've been tested," Luongo said. "You always say in tough times that's when you see true character of somebody, so obviously it was a big game in my career today."
Despite losing, the same could be said for Crawford. The rookie made 36 saves and was the game's best player, keeping Chicago in it with a handful of highlight stops before Burrows slapped a rolling puck past him.
"He was a warrior out there," Toews said. "He battled as hard as anybody. Everyone wants to talk about Luongo all the time and the superstars, but for a rookie goaltender he was amazing and I can't say enough about him."
Vancouver won the first three games before the defending champions roared back with three straight victories, threatening to spoil the Canucks' Presidents Trophy-winning season by becoming just the fourth team in NHL history to erase an 0-3 series deficit. Instead, Vancouver will host Nashville in the second round.
"We needed to get over this hump," said Ryan Kesler, who set up the opening goal. "It was pretty sweet beating them ... I can't even describe the feeling."
Burrows couldn't have imagined the feeling if Chicago had scored after he took a penalty 24 seconds into overtime. But Luongo made a great sliding save to take a backdoor empty net away from Patrick Sharp.
"I thanked him for that after the game," Burrows said. "It was the worst spot to be, in the penalty box, but Lou made a big save and I was able to get back out."
Crawford made several brilliant stops to keep it close. He turned away Burrows penalty shot and made three more great saves with 5 minutes left, denying Chris Higgins cutting in alone in tight, sprawling to stop Burrows on the rebound, and then diving from his stomach to glove Kesler's sharp angle attempt at an empty net. Toews tied it 3 minutes later.
With Vancouver on a power play with a chance to finally extend their early lead, Toews split the defense off a 2-on-4 rush to set up Marian Hossa for a chance in front. He was stopped, but Toews lifted the rebound over a sprawled Luongo.
"Not a lot of guys in the league can do that," Luongo said. "That's why he won the Conn Smythe, the MVP of the Olympics. It was a massive play by him shorthanded and that's why he's the leader of that team."
The Blackhawks, who were forced to shed several key players from the Cup-winning team to stay under the salary cap, barely got out of the regular season, losing their final game and needing help on the final day just to make the playoffs. They looked like a No. 8 seed at times while losing the first three games, but resembled the defending champions the last four.
"I don't think anyone would have believed we would have came back and forced a Game 7, Crawford said. "It could have went our way."
Notes: Vancouver D Sami Salo didn't play after getting hurt early in Game 6. Keith Ballard, a surprise scratch the last two games, took his spot alongside Andrew Alberts on a third pairing. ... Chicago moved Brouwer onto Dave Bolland's checking line after Bryan Bickell had surgery to repair a sliced tendon Monday. ... Fernando Pisani and Markus Kruger were back in the Chicago lineup, while 6-foot-8 John Scott, who played 59 seconds in Game 6, was scratched. ... Vancouver had 12 players with prior Game 7 experience. Chicago had five. ... Chicago is the seventh team in NHL history to force a Game 7 after falling behind 3-0.