Bucks' Kidd and Badgers' Ryan forge bond at training camp in Madison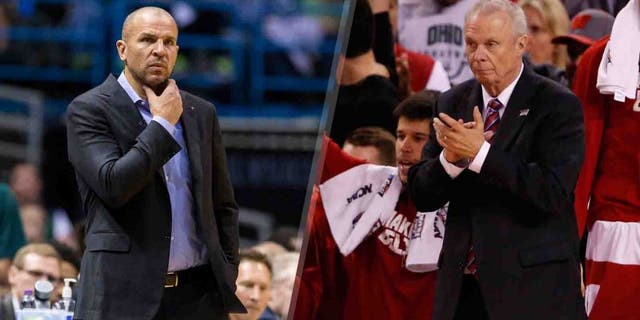 NEWYou can now listen to Fox News articles!
MADISON, Wis. -- A training camp trip to the University of Wisconsin allowed the Milwaukee Bucks' Jason Kidd to form a coaching bond with the Badgers' Bo Ryan.
Two former point guards are leading two young teams.
"We saw the game a certain way, when we were playing. As coaches, now we try to institute that in our players to get them to see the game the same way. A few tweaks here and there, as all coaches do," Ryan said after watching the Bucks practice at the Badgers' facility.
"I'm impressed with how (the Bucks) are working with one another, the energy they have here," he added.
Kidd liked building camaraderie with Ryan, who has guided Wisconsin to back-to-back Final Four appearances. The Badgers lost to Duke in the NCAA title game in April.
"Why wouldn't you want to try to pick up something?" Kidd said. "I know I will learn something, being a young coach. Bo made me feel welcome. Just listening to him talk, you'll never hear the same story twice."
The Bucks conducted four practices during a four-day period. The team will return to play an exhibition game against the Minnesota Timberwolves on Oct. 20 at the Kohl Center.
"They knew coming in they'd have space, and they'd be able to get their offensive and defensive schemes in place," Ryan said. "They've been nothing but singing high praises about the experience."
Kidd, in his second season with the team, stuck around after Milwaukee's final camp session Friday to watch the Badgers' first official practice. But Ryan warned Kidd there wouldn't be much shooting to observe, that fundamentals would be the emphasis of the workout.
"I'm a pass-first guy, anyway," Kidd said. "When they say you'll see a lot of passing, I say, 'You don't have to do that because of me.' "
Kidd said he was optimistic that the Bucks will get the chance to return to Madison next preseason. Plans haven't been completed for a new team practice facility in downtown Milwaukee.
"Wisconsin allowing us to come here and having a partnership, hopefully that grows beyond this training camp," he said. "I would love to come back."