Browns coach Mike Pettine says QB Brian Hoyer doesn't have to worry about "quick hook'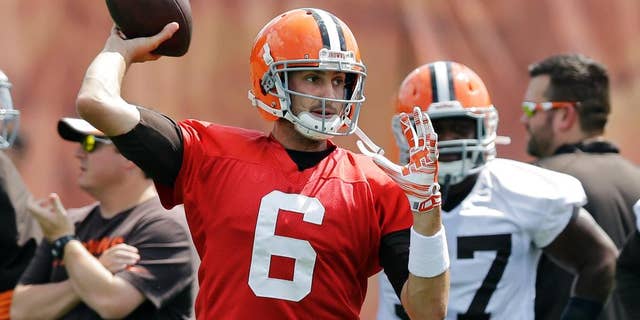 BEREA, Ohio – Browns quarterback Brian Hoyer doesn't have to look over his shoulder and worry.
Cleveland coach Mike Pettine said Wednesday that he's told Hoyer, who was named the starter for this week's opener in Pittsburgh over hyped rookie Johnny Manziel, he won't use "a quick hook" and pull him from a game. Pettine spoke to Hoyer about the club's expectations this season and told the veteran that the team supports him.
Pettine said Hoyer also understands he has to produce.
Pettine would not say whether he plans to use Manziel in any package against the Steelers.
Hoyer has been on both sides of Cleveland's long-time rivalry with Pittsburgh. He acknowledged having a soft spot for the Steelers, who signed him in 2012 after he was cut by New England.
___
Online:
AP NFL websites: www.pro32.ap.org and www.twitter.com/AP_NFL