Brewers getting out to quick starts in first inning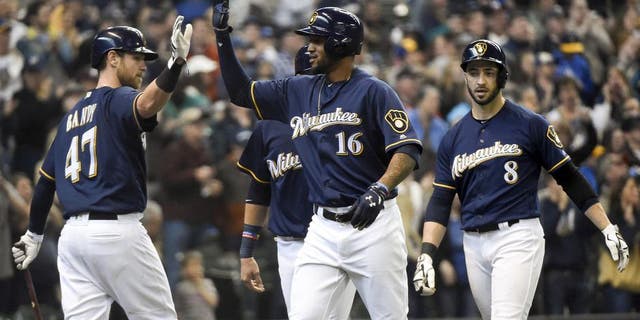 If the Milwaukee Brewers have proved one thing this season, its this: They know how to start a ballgame.
Strong production at the top of their order in Jonathan Villar, Eric Thames, Ryan Braun and Hernan Perez has topped opponents by 19 runs in the first inning, a league high. Milwaukee scored 28 runs scored and allowed a mere nine runs in just 26 April games.
Tampa Bay is second in the big leagues with a first-inning run differential of 14 (25 runs, 11 runs allowed).
It's well noted that the Brewers lead MLB in home runs -- a number that stands at 43 total dingers after Domingo Santana sent two over the fence on Sunday. But they're also ranked second in doubles, with 52, a number that has contributed to their vastly improved slugging percentage compared to last season.
Milwaukee has also seen improvements on the mound from last year, especially in starting pitcher Chase Anderson. Anderson finished 2016 with a 4.39 earned-run average. After five 2017 starts, Anderson has decreased his ERA by over two runs (2.10 ERA).
NOTABLES:
-- Eric Thames leads MLB with a 1.702 OPS on the road.
-- Brewers starting pitcher Zach Davies averages 7.34 strikeouts per nine innings in his career, but he seems to step up when facing the St. Louis Cardinals, Milwaukee's next opponent. He own a 10 strikeouts per nine innings average against St. Louis.
-- St. Louis lost its first four series of 2017. Since April 17, however, the Cardinals are 9-3 overall and 3-0-1 in their last four series.
-- Watch out for the clutch situations: St. Louis pinch hitters have the highest batting average in MLB (.438). Last season, the Cardinals hit .333 in pinch-hitting situations, which also led the league.