Brewers announce five winners of postseason team awards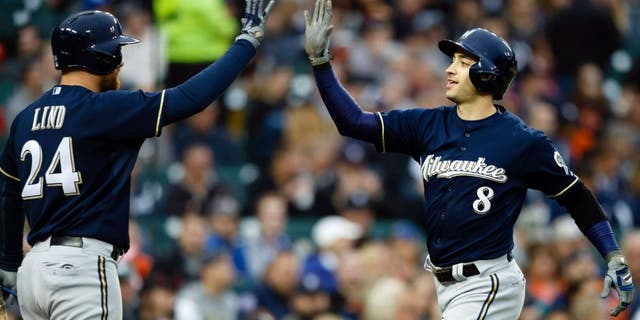 NEWYou can now listen to Fox News articles!
It may have been a disappointing year on the field for the Milwaukee Brewers, but on Tuesday they announced their postseason award winners.
Five players earned team honors, as voted by members of the Milwaukee Chapter of the Baseball Writers Association of America. Seven ballots were cast for each award, with five points for first place, three for second and one for third.
Right fielder Ryan Braun was named Brewers Most Valuable Player, earning all seven first-place votes (35 points). Braun, an All-Star for the sixth time, batted .285 with 25 home runs, 84 RBI and 24 stolen bases in 140 games to capture his third team MVP. First baseman Adam Lind (19 points) finished second in the voting.
Closer Francisco Rodriguez won the team award for Most Valuable Pitcher, earning all seven first-place votes (35 points). Rodriguez, who also made his sixth All-Star team, finished 1-3 with a 2.21 ERA and 38 saves in 60 appearances last season. His 38 saves tied for fifth in the National League. Reliever Jeremy Jeffress (14 points) and starter Jimmy Nelson (11) finished second and third, respectively.
With 31 points, Lind edged rookie pitcher Taylor Jungmann (22) for Brewers Top Newcomer. The veteran first baseman, acquired from Toronto last winter in exchange for pitcher Marco Estrada, batted .277 with 20 homers and a team-high 87 RBI in 149 games.
Jeffress was honored with the team's Unsung Hero award, earning 24 points and beating out fellow reliever Will Smith (15). Jeffress went 5-0 with a 2.65 ERA in 72 appearances on the season, including a 1.40 ERA over his last 25 outings.
Finally, catcher Jonathan Lucroy, a fan-favorite, received all seven first-place votes (35 points) to win his third straight Good Guy Award. Veteran pitcher Kyle Lohse (14) and second baseman Scooter Gennett (12) finished second and third, respectively.