BJ Penn, Yair Rodriguez on weight for main event at UFC Fight Night in Phoenix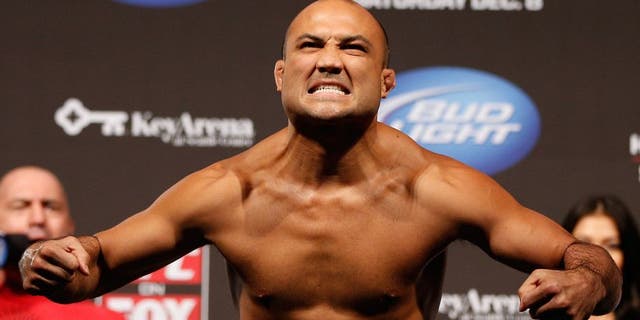 NEWYou can now listen to Fox News articles!
BJ Penn has only made the weight cut down to featherweight on two occasions but it certainly appears that the second trip went much smoother than the first.
The UFC Hall of Famer hit the scales on Saturday morning in Phoenix as he prepares to compete for the first time in more than two years after coming out of retirement.
Penn has only fought at featherweight one time previously when he suffered a TKO loss to Frankie Edgar in 2014, which led to his retirement from the sport.
This time around, Penn surrounded himself with an all star group of coaches and training partners while handling the weight cut without the benefit of a nutritionist. It seemed to pay off as Penn looked healthy and happy stepping on the scale as he made the mark at 146 pounds.
Meanwhile, Penn's opponent Yair Rodriguez also had no problems making weight as he came in at 145 pounds for the featherweight main event on Sunday night.
The rest of the fighters on the card made weight without incident, making all of the bouts at UFC Fight Night in Phoenix official.
Here are the full weigh-in results for UFC Fight Night: Rodriguez vs. Penn
UFC FIGHT NIGHT: RODRIGUEZ VS. PENN MAIN CARD (10 p.m. ET on FS1)
BJ Penn (146) vs. Yair Rodriguez (145)
Marcin Held (156) vs. Joe Lauzon (155)
Court McGee (170) vs. Ben Saunders (170)
John Moraga (126) vs. Sergio Pettis (125)
UFC FIGHT NIGHT PRELIMS ON FS1 (8 p.m. ET on FS1)
Drakkar Klose (156) vs. Devin Powell (155)
Augusto Mendes (135) vs. Frankie Saenz (135)
Aleksei Oleinik (242) vs. Viktor Pesta (239)
Tony Martin (155) vs. Alex White (155)
EARLY PRELIMS (6 p.m. ET on UFC Fight Pass)
Nina Ansaroff (116) vs. Jocelyn Jones-Lybarger (115)
Walt Harris (254) vs. Chase Sherman (246)
Joachim Christensen (205) vs. Bojan Mihajlovic (205)
Cyril Asker (248) vs. Dmitrii Smoliakov (257)