Bills GM Whaley 'excited' about draft's depth at QB, DL and WR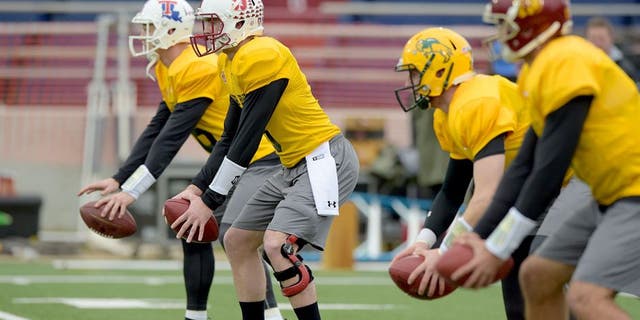 As it stands right now, the Buffalo Bills appear to have plenty of talent at quarterback, wide receiver and along the defensive line. That could change, however, as Mario Williams isn't likely to return, and neither is Percy Harvin.
At quarterback, Tyrod Taylor is expected to remain the starter for 2016. Determining who his backup will be is another story. EJ Manuel has flopped in Buffalo as a former first-round pick. That, paired with question marks about Taylor's flaws at quarterback, have the Bills thinking about the future.
General manager Doug Whaley said on Tuesday that the team will "absolutely" consider drafting a quarterback early in April. If they do, he may not be the starter next season, but Taylor is under contract for just one more year, as is Manuel.
On Wednesday, Whaley commented on the depth at quarterback, as well as other positions -- notably defensive line and wide receiver.
Via BuffaloBills.com:
Almost every team is looking for quarterbacks to develop for the future, aside from a few exceptions. Having no quarterbacks under contract for 2017, the Bills are among the teams searching for a future quarterback.
While it seems unlikely that they'll take one at No. 19 overall, taking a quarterback in the second or third round is a possibility.