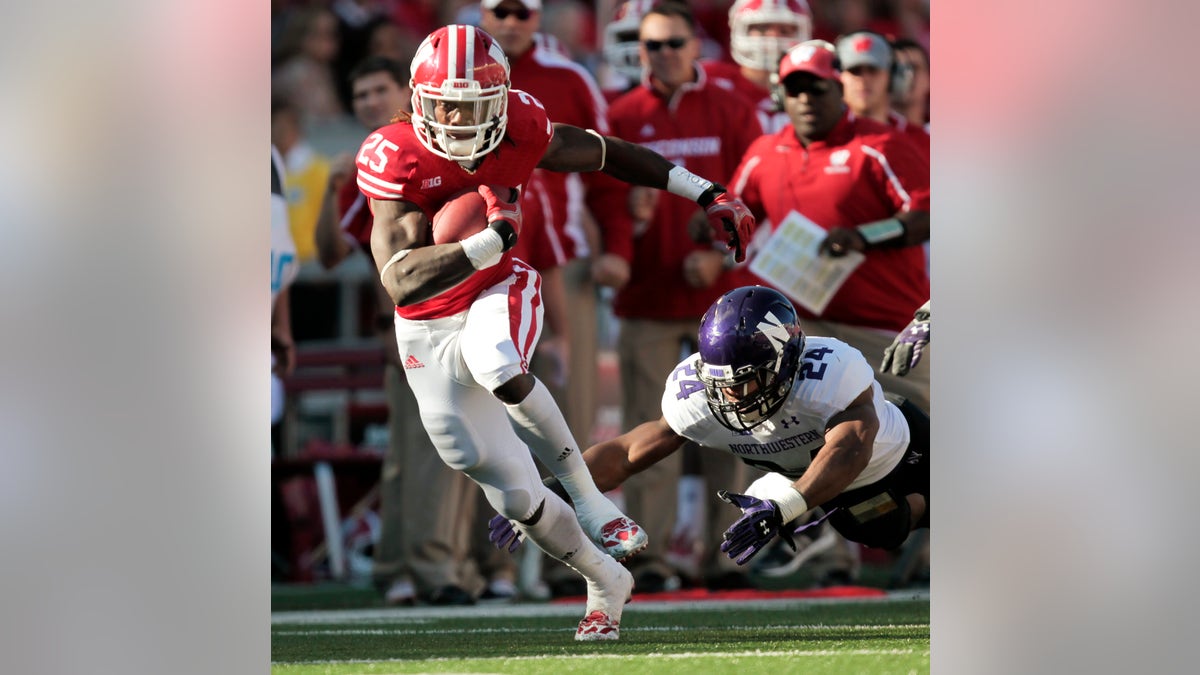 CHAMPAIGN, Ill. – One of the biggest concerns for Illinois on Saturday night against No. 25 Wisconsin is the size of the Badgers' offensive line.
Linebacker Jonathan Brown thinks the best way to deal with that problem is to ignore it altogether.
"Just read and react, man — that's the thing," he said Monday. "You really can't think about how you're going to get around the guy, how you're going to avoid the guy or take him on. ... If you focus too much on the man, that's when you realize how big those guys really are."
The average size for Wisconsin's line is 6-foot-6 and 321 pounds. That's anywhere from 20 to 50 pounds heavier than Illinois' defensive linemen.
Helped by that big offensive line, Wisconsin (4-2, 2-1) is averaging a Big Ten-best 519.5 yards a game. That impressive number includes an average of 298 yards on the ground.
Melvin Gordon is the top back in the conference, averaging 145 yards a game. But teammate James White is only three spots back, at 95.7 yards a game.
Illinois (3-2, 0-1) is clearly better in many areas than last season's two-win team. Defense remains a considerable problem.
The Illini are surrendering almost 200 yards rushing per game and just shy of 450 yards a game in all, good for 11th in the 12-team conference. Washington had 615 yards in a 34-24 victory over Illinois last month, and Nebraska, a team with a run-until-you-stop-us approach similar to Wisconsin, had 521 in a 39-19 win on Oct. 5.
"They understood that they were a little bit manhandled in Lincoln," Illinois coach Tim Beckman said.
It also happened last season at Wisconsin, according to Brown.
"We were in that game most of the game," he said.
Right up until the end of the third quarter, when the Illini trailed 10-7. Then the Badgers used two touchdown runs by Montee Ball and a long scoring pass to roll to a 31-14 win.
Illinois should get some help this week with the anticipated return of Teko Powell, a 6-3, 290-pound defensive tackle who played some last season as a freshman but had missed all but two games this fall with an injury. Defensive coordinator Tim Banks says he's athletic enough and big enough to help against the pass and the run.
Illinois could try to hold onto the ball as much as possible, keeping Gordon and White on the sideline, but offensive coordinator Bill Cubit said he tried that to some degree in the loss to the Cornhuskers and it didn't work.
"Our kids play best when we try to play fast," he said.
So if the Illini offense doesn't chew up the clock, how do they prevent the Badgers from grinding down Illinois' defensive line and linebackers?
"That's the million-dollar question," Banks said. "You've got to be able to move your front a little bit, put them in situations where they're not constantly taking a pounding."
___
Follow David Mercer on Twitter: https://twitter.com/davidmercerap