Ben Rothwell 'disheartened' at news of Stipe Miocic facing Andrei Arlovski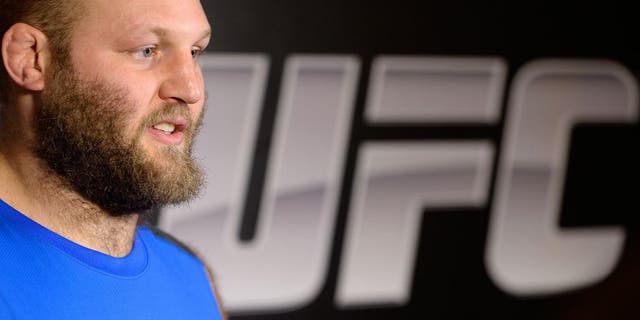 NEWYou can now listen to Fox News articles!
It's more than likely that both Ben Rothwell and Stipe Miocic felt gutted when Miocic pulled out of their scheduled fight this Saturday with an injury. No one gets paid, and no one moves ahead in the rankings.
Well, at least Miocic got himself booked with former world champion Andrei Arlovski, for Jan. 2, about two weeks after it was announced he was off Saturday's UFC Dublin card. That, predictably, didn't sit too well with Rothwell -- who is still waiting for a fight, and who had himself publicly called for a fight with Arlovski.
"I'm disheartened," he told MMA Junkie, recently.
"I've been rallying for a fight with Andrei for a whole week while in Ireland. I felt a lot of good vibes, a lot of traction ... I just felt people wanted to see the fight. Two weeks ago, Stipe pulled out of the fight. Here I am, in Ireland. I'm here to fight and ready to go. Somehow, the guy that's injured, that I was supposed to fight, now gets to fight the guy I've been asking for. It makes no sense whatsoever."
Rothwell also posted sarcastically on his twitter account, likening Joe Duffy and Dustin Poirier's unfortunate situation of having their UFC Dublin fight canceled because of an injury to the Irishman.
The heavyweight insisted that he isn't caught up in notions of fairness, but instead that he literally doesn't understand how an injured fighter who won't be able to fight this weekend got another fight booked before he himself did. "I'm not going to talk about what's fair because there is nothing fair in this sport, so let's get past that. I just, fair or not, I'm just completely blindsided. I mean if Andrei got matched up with somebody else, fine, whatever," he continued.
"But to get matched up with the guy I'm supposed to fight that's not here to fight; the fight is Saturday and this is all getting announced, the fight hasn't happened. It's absurd."
Rothwell said that he expressed his frustration to UFC officials, but was unsatisfied with their responses. "I said, 'Why is [Miocic] getting rewarded?' And they're like, 'It's not a reward, he's ranked third, Andrei's ranked fourth. We're just putting it together because of rankings.' It doesn't make sense. I mean [Alistair] Overeem is ranked behind me and he's fighting the No. 1 contender in Junior Dos Santos," he reasoned.
"I mean, we are all in the top 10, let us fight each other. I'm the guy that's been calling out Andrei, isn't that worth anything? They've been telling us for years that fighters need to call out guys. I've been calling out the top dudes for the last year now and not one of the fights I've been asking for has been (made). So, I don't get it, it's obvious frustration."
Rothwell vs. Miocic would have been a great fight, as would have Arlovski vs. Rothwell, and as Arlovski vs. Miocic certainly will be. Hopefully the big man from Wisconsin gets another marquee matchup booked, soon.