Bears Shut Out Injury-Plagued Dolphins, 16-0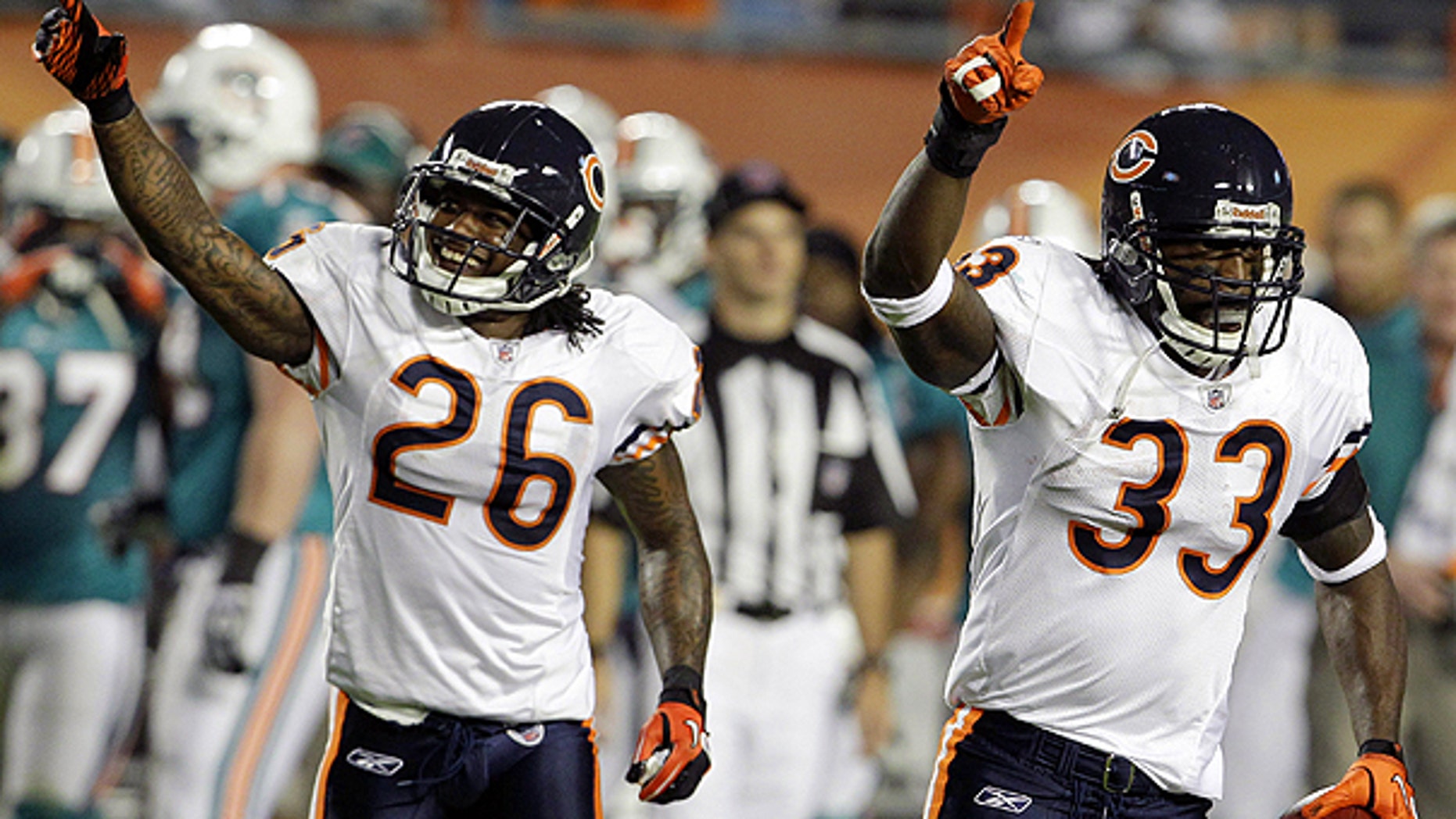 MIAMI -- With the outcome decided, the stadium nearly empty and the final seconds ticking down, many of the remaining fans were Chicago rooters chanting "Let's go Bears!"
And the Bears kept coming, blitzing the Miami Dolphins to put an emphatic stamp on a 16-0 victory.
"Coach let us keep going at the end of the game," linebacker Brian Urlacher said. "We didn't want to give up any points. Anytime you have a chance that late in the game for a shutout, you might as well try to keep it. They're really hard to get in the NFL."
Urlacher and Julius Peppers led a swarming defense that allowed only 187 yards and a single third-down conversion Thursday night, and the Bears sent the injury-ravaged Dolphins to their second home shutout in 40 years.
Peppers had three of the Bears' six sacks. Urlacher had a sack, a tackle for a loss and a quarterback hurry.
"It's nice to get a couple sacks," Peppers said. "It's even nicer to get that goose egg."
The Bears (7-3) registered their first shutout since Nov. 19, 2006, against the Jets. Playing in Miami for the first time since losing the 2007 Super Bowl to Indianapolis, Chicago earned its third victory in 12 days and moved a half-game ahead of Green Bay atop the NFC North.
As usual, the Bears won with defense. The offense mustered only one scoring drive of more than 40 yards, but that was more than enough.
"The way the defense is playing, we didn't have to do much," quarterback Jay Cutler said.
Miami's already-depleted offense lost Pro Bowl receiver Brandon Marshall to a right hamstring injury and center Cory Procter because of a left knee injury. And with third-string quarterback Tyler Thigpen struggling in his first NFL start since 2008, the Dolphins were no match for a Bears defense that took over the NFL lead in points allowed per game.
"Offensively, we're embarrassed what we put on the field," Thigpen said.
The Dolphins (5-5) lost at home in prime time for the third time this season. Coach Tony Sparano declined to blame injuries for the dismal showing.
"Those are excuses," he said. "I'm not going to use them. I don't want my team to use them. This is the NFL. The next guy has to step up."
Even after the whistle, the Dolphins had trouble doing things right. Marshall drew a flag for taunting when he flipped the ball at former Denver teammate Cutler, standing in front of the Bears bench.
"Brandon's a competitor," Cutler said. "I was getting on him before the game, telling him he wasn't going to catch any balls today. He's such a competitor, he's just fired up."
Marshall was also penalized for an illegal block and dropped two passes before he limped out of the game in the second quarter.
The Dolphins were blanked for the first time since a 3-0 loss at Pittsburgh during their one-win season in 2007. Their only other home shutout since the first year of the Don Shula era came in 2001.
Perhaps Procter was fortunate to miss most of it. He had no access to TV while being treated for his injury.
"The room I was in, there was nothing," he said. "And I had no service on my phone, so I couldn't get updates."
Matt Forte carried 25 times for 97 yards and a score for the Bears, who converted 10 of 18 third-down situations and controlled the ball for nearly 38 minutes.
The Dolphins went 1 for 12 on third down, and a 46-yard kickoff return to start the game created their best scoring threat. They moved inside the Bears 35 for the first time on the game's final play.
Thigpen, pressed into duty after Chad Pennington and Chad Henne were hurt in Sunday's win over Tennessee, finished with respectable stats -- 17 for 29 for 187 yards. But he lost 39 yards on sacks, and Miami's three running backs combined for only 12 yards rushing.
NOTES: The Bears' sack total was their highest since Sept. 30, 2007. ... Miami's Ronnie Brown has totaled 21 yards rushing in the past two games. ... Thigpen is the 15th quarterback to start for the Dolphins since Dan Marino.