Baseball Roundup: Yankee Prospect Debuts, Hanley Ramirez Out For the Season, and More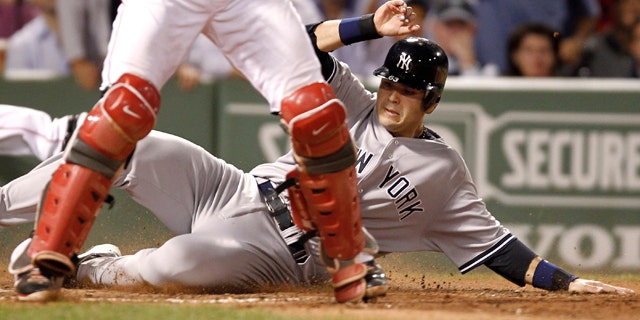 The Future Is Here
Yankees catching prospect Jesus Montero was penciled in the lineup as the DH as he made his debut in the majors Thursday against the Boston Red Sox in baseball's storied rivalry.
The 22-year-old Venezuelan, who has been one of the players that teams always asked for when trying to make a deal with the Yankees, scored the winning run in the 4-2 victory at Fenway Park. Montero went 0 for 4 and was hit by a pitch before scoring in the seventh inning.
He was called up to the big club after rosters expanded on Sept. 1.
Two days later he picked up his first major league hit on a line drive past a Toronto Blue Jays shortstop.
"I'm very happy to be here with the team. It was a beautiful experience. I will never forget those at-bats," Montero told Fox News Latino. "I was a little bit nervous in my first at-bat."
Santana Takes Baby Steps
Although the chances of Johan Santana pitching for the Mets this season are slim, the lefty made a rehab start for Port St. Lucie on Saturday afternoon.
Santana threw 30 pitches in two innings and allowed three hits and one run. He struck out two and walked none. It was his first appearance since a start on July 28 in which he went three innings but was shut down after he felt discomfort in his left shoulder.
Santana underwent an operation on Sept. 14, 2010 to repair a torn anterior capsule.
If all goes well and he is feeling better, Santana will pitch three innings and be limited to 50 pitches next Friday but only if one of the Mets' minor league affiliates is still in the playoffs.
Surgery Forces Marlins Star Out
Florida's Hanley Ramírez, out since Aug, 2 with a left shoulder injury, will undergo surgery to correct instability, according to a recommendation made by Marlins team doctor Lee Kaplan.
Ramírez ran out after a fly ball and dove for it with his back turned to the field. Ramírez fell to the ground and injured himself as he rolled over on the grass.
The shortstop was on a rehab assignment with Class-A Jupiter and suffered a set back Tuesday.
Ramírez had an MRI on Wednesday which revealed no damage. It's the same shoulder he had surgery on after the 2007 season.
He should be ready for the start of next season in the team's new ballpark in Miami.
Cabrera Leads Tigers' Walk Off
Trailing 8-1 in the fifth inning and then 8-6 in the ninth, Miguel Cabrera won it for the Tigers with one out in the ninth inning Saturday.
Cabrera's game-winning homer, his 25th of the year, came one out after Ryan Raburn's game-tying two-run homer.
The Tigers now lead Ozzie Guillen's Chicago White Sox by 7 ½ games in the AL Central.
Been a Long Time
St. Louis' Jaime García won for the first time since July on Saturday, pitching six innings to lead the Cardinals to a 6-4 victory over Cincinnati.
García, who had gone nine days without pitching, allowed two runs -one earned- and seven hits.
His last outing was on Aug. 24 against the Los Angeles Dodgers. He was tagged for seven runs and nine hits in five innings. His previous victory came on July 23 at Pittsburgh.
Over his last six games prior to Saturday's start, García was 0-3 with a 6.68 ERA.
He is now 10-7 with a 3.73 ERA, 132 strikeouts and 46 walks. He has logged a career-high 170 innings this season.
Adry Torres, who has covered MLB, NFL, NBA and NCAA basketball games and related events, is a regular contributor to Fox News Latino. He can be reached at elpiloto137@gmail.com or follow him on Twitter: @adrytorresnyc.
Follow us on twitter.com/foxnewslatino
Like us at facebook.com/foxnewslatino