Bartolo 'Big Sexy' Colón turns 43; pitches 7 innings as Mets top Nats 7-1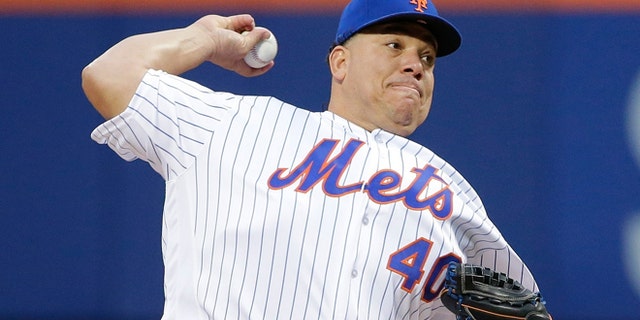 NEW YORK (AP) – Watching someone wait has rarely been so amusing.
Bartolo Colón will casually flip a baseball back and forth from bare hand to black glove, spinning it by the seams high off his fingertips as the next young hitter — perhaps 20 years his junior — struts toward home plate with serious intentions.
This happens on a major league mound, mind you, in the center of a stadium packed with 40,000 people.
And yet Colón, the roly-poly YouTube sensation wearing a New York Mets uniform, resembles the fill-in starter on any summer Sunday for some rec team in a men's league playing at the public park.
Not a care in the world, it seems.
No fear of Bryce Harper and the Washington Nationals.
"I really love pitching to those good batters," Colón said through a translator last week. "Even if they give me a good whack, I still enjoy just dueling it out with them."
Baseball's ageless ambassador of fun, Colón turned 43 on Tuesday a few hours after pitching the Mets to a 7-1 win at Washington.
He tossed seven crisp innings despite a stiff back that persuaded him to take precautions at the plate. So of course, Colón went right ahead and promised Nationals catcher Wilson Ramos he wasn't going to swing all night.
And he didn't.
Only you, Bartolo. Only you.
Not a boring bone in that body.
His latest birthday seems a fitting time to toast the many unique achievements of a modern-day throwback, a pitcher whose 19-year trek around the majors fills seven pages in the Mets' media guide.
A quick refresher:
— Colón has a Cy Young Award, three All-Star selections and 222 victories, most among active pitchers.
— He went 14 years between playoff wins, then became the oldest pitcher to lose a World Series game.
— He once threw 38 consecutive strikes in a game. Another time, it took him 20 pitches to strike out Ricky Gutierrez.
— He had a career-low 2.65 ERA at age 40, and set a career high with 31 straight scoreless innings at 42.
— He's pitched for the Red Sox and White Sox, both New York teams, in the Cleveland cold and California sun (Angels and Athletics).
— And he's the last Montreal Expo still playing in the majors.
Quite a career for this fan favorite, now the oldest player in the big leagues.
And whether you fancy his stunning home run in San Diego, that behind-the-back toss to first base or when he grabbed his ample belly on the bench with both hands, "Big Sexy" has become the ballplayer most likely to go viral these days.
"He's a big kid, just like the rest of us," said 23-year-old outfielder Michael Conforto, Colón's youngest teammate on the Mets. "It's always fun to see the joy he plays with and he's always got a smile on his face. He's a good energy to have around."
For a No. 5 starter, Colón has made more than his share of headlines this month — and some of them were no laughing matter. Last week, the New York Post reported he was being sued by a woman who alleged the pitcher hadn't paid child support for two children he fathered with her outside his marriage.
Colón declined to comment about "personal stuff" and insisted the story wasn't a distraction.
On the field, of course, he became the oldest player in major league history to hit his first career home run when he connected May 7 against James Shields.
It was a shocking moment of improbable success that charmed nearly everyone but the Padres, especially considering Colón's previous penchant for comically embarrassing swings that sent a Mets helmet flying off his huge head .
The long ball generated such buzz it practically spawned its own cottage industry, from special baseball cards to "Bartbino" shirts to one-of-a-kind bobbleheads (with a belly that bobbles, too).
Online you can easily find mash-up spoofs of "The Natural" and a "30 for 30" documentary trailer.
"He's kind of a man of the people, I guess," said Conforto, who grew up hearing stories about a young Colón from travel-team coach Jose Cepeda, the nephew of Hall of Famer Orlando Cepeda.
So what is it that makes Colón, once suspended 50 games for a positive drug test, such a big hit with fans?
"I think it's the total package. I think it's a combination of his age, his size, his unflappability, the fact that his teammates love him," Mets broadcaster Gary Cohen said. "He's somebody who every fan can relate to.
"He's different. He's a one-off and that's what makes him special. There's never been anybody like him," Cohen added, noting "the incredible air of nonchalance" the pitcher occasionally displays even during big league games.
But he's much more than a novel attraction.
Colón has won 33 games in two-plus seasons with the Mets, and his ability to soak up innings has been invaluable to their young staff. He works hard in the gym and provides a positive influence in the clubhouse, manager Terry Collins says, especially for young Latino pitchers like Jeurys Familia and Hansel Robles.
"When he sits down to eat a meal, there's a lot of people at that table," Collins said.
Listed at 5-foot-11 and 283 pounds, the quiet Colón remains quick off the mound and keeps batters off balance with smarts and skill.
He throws his fastball, which averages 88 mph, about 86 percent of the time — by far the most frequently of any starter in the majors. Quite a contrast to all the young fireballers who make up the rest of the Mets' rotation.
Once upon a time, Colón was one of those lightning-armed aces, boasting a 98 mph heater when he first came to the majors in 1997.
"I think the most amazing thing is how he's evolved," Conforto said.
Now, the heavy-set right-hander is an expert at creating late movement. He sinks the ball, runs it, cuts it and paints corners. And he rarely walks anyone.
"There's an athlete inside that body," Nationals manager Dusty Baker said. "That's still the best pitch in baseball, is a well-located fastball — and he's the epitome of it."
Collins, recalling when Colón joined the Mets in 2014, acknowledges he never imagined they'd squeeze this much out of him.
More to come at age 43, too.
"The first time I saw him pitch, I said, 'I don't know how he's going to continue this' — and he has," Collins said. "It's been a marvel to watch."
For all of us.