Banged-up Packers reportedly trade for a running back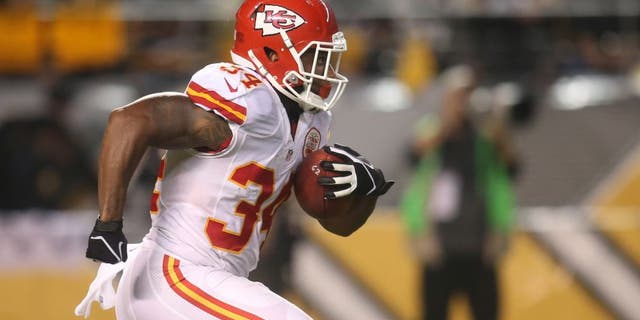 The Green Bay Packers went into Sunday's game against the Dallas Cowboys with one active running back: Eddie Lacy. The reason for that is because James Starks had knee surgery on Sunday morning and is reportedly expected to miss four weeks.
After realizing one healthy running back wasn't an option, the Packers made a much-needed move. On Tuesday morning, Green Bay reportedly traded for Chiefs running back Knile Davis, according to Terez Paylor of the Kansas City Star.
This isn't an end-all solution for the Packers' depleted backfield, but at least he has experience playing the position. Unfortunately, he's been terrible the past two years. This season, he has minus-2 rushing yards on one attempt, and has caught two passes for 14 yards.
Finding snaps in the Chiefs' crowded backfield is a challenge, which is why they were content with shipping him to Green Bay.
In 2015, Davis rushed for 72 yards on 28 attempts (2.6 yards per carry), and while he has breakaway speed, his longest run since the start of last season is 10 yards. He can help on special teams as a return man, too.
Lacy has played well this season, but he's banged up himself. He played on a bum ankle Sunday, rushing for 65 yards on 17 attempts with a long rush of 25 yards. The Packers were forced to also use wide receivers Ty Montgomery and Randall Cobb at running back against the Cowboys.
Compensation for Davis has not yet been announced, but he likely wouldn't fetch more than a late-round pick.