Aztec football's Rocky Long announces 'really good' 2017 recruiting class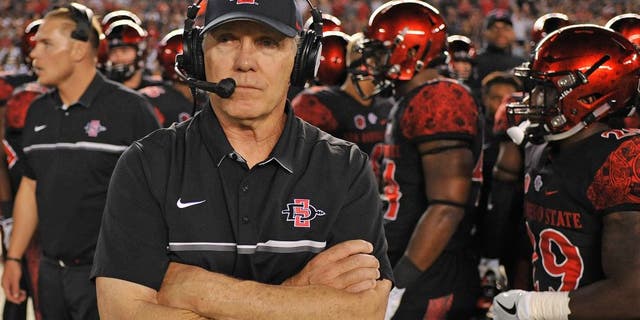 NEWYou can now listen to Fox News articles!
San Diego State football coach Rocky Long announced the signing of 20 student-athletes to National Letters of Intent on Wednesday. The Aztecs' newest 20 players will join three other student-athletes already enrolled for the 2017 fall semester, pushing the Aztecs' 2017 recruiting class to 23.
As expected, Long is thrilled to bring in each and every one of them.
"Overall it's a really good class," Long said. "We filled a lot of our needs. Off of high school film, there's a lot of really, really good football players on that list. When we find out how they mature or how quickly they mature will have a lot to do with how good our football team is three or four years from now."
Of the 23 signees, 13 are offensive players and the other 10 will worm on the Aztecs' defense.
Offensively, consensus three-star running backs Chance Bell and Kaegun Williams are both expected to make an early impact at SDSU.
Bell, considered a three-star recruit by Rivals, ESPN, 247Sports and Scout, was one of 11 California recruits to join forces with the Aztecs. He carried the ball 605 times for 4,525 yards and 59 touchdowns in 31 career games with John Burroughs High School.
Joining Bell in the backfield, former Cedar Hill High School running back Kaegun Williams declined offers from nine different schools, including University of Tennessee and UC Berkeley, to take his talents to the Mesa. A consensus three-star recruit by Rivals, ESPN, 247Sports and Scout, Williams rushed for 2,070 yards and 26 touchdowns in his last three years with Cedar Hill HS.
With both Bell (5'10", 180 pounds) and Williams (5'9", 190 pounds) falling short of the mark in terms of size, both backs should look to follow former SDSU running back Donnel Pumphrey's lead.
Standing at 5'9", 170 pounds, Pumphrey finished his career with the Scarlet and Black as the NCAA's all-time leading rusher with 6,405 yards, leaving behind some big shoes to fill in the Aztecs' backfield.
Long pointed to Pumphrey's success as a significant pull for running back recruits to commit to SDSU.
"It's really easy for us to recruit running backs because of the success our running backs have had over the last eight years," Long said. "Obviously they want to be the next Donnel Pumphrey. That's what they want. So it's easy to recruit them."
The Aztecs' also added some beef to the trenches, as they signed five offensive linemen, including Chula Vista native Dominic Gudino.
Considered a three-star recruit by ESPN, 247 Sports and Scout, Gudino opted against several other schools to stay close to home with SDSU.
Long praised Gudino for his ability both on and off the field.
"I think he's going to be a great player for us," Long said. "By standards, he's a little short. But he's a big, tough, rough guy on the field and he is a great kid off the field. Really good student. He has a great family. He wanted to stay in San Diego.
"The kid you get off the field is not that guy you see on the field. He's a big, mean tough guy now. When he drives those little high school kids back 10 yards in the backfield and puts them out of the end zone and on their backs, I hope he can do that at our level, too."
SDSU added another San Diego native to their recruiting class late in the process in former Rancho Bernardo High School quarterback Mark Salazar.
Brought in as a three-star recruit by 247Sports and a two-star recruit by Rivals and Scout, Salazar led his high school to a 24-3 record over his final two years. He completed 68.7 percent of his passes for 3,496 yards, 32 touchdowns and 11 interceptions in that span.
Salazar and former Heritage High School quarterback Cam Roane were the only two quarterbacks signed in this year's class.
Roane was a consensus three-star recruit by ESPN, Rivals, 247Sports and Scout coming out of the Lone Star State. He completed 58.5 percent of his passes for 8,330 yards, 84 touchdowns and 21 interceptions in 39 career games.
Long spoke highly of both quarterback prospects.
"Both of them are basically spread quarterbacks and both of them have a lot of the same traits," Long said. "They're really good in the pocket, they're really good at getting out of trouble, they can make plays with their feet and they both got really good arms and are fairly accurate with the football."
SDSU put the finishing touches on the offensive class with two wide receiver prospects and tight end Shane Coleman.
Headlining the defensive class, former Rancho Cucamonga High School cornerbacks Darren Hall and Tayari Venable were considered the 17th and 18th best cornerbacks in California by Scout, respectively. Both cornerbacks were consensus three-star recruits by ESPN, 247Sports, Rivals and Scout.
The Aztecs also said aloha to two linebackers from the state of Hawaii in Andrew Aleki and Seyddrick Lakalaka.
Labeled a two-star recruit by Rivals and Scout, Lakalaka will join forces with his older brother, SDSU junior linebacker Ronley Lakalaka, on SDSU's defense.
Yes, that's a lot of Lakalaka.
Former Northwest Texas High School linebacker Caden McDonald will need to hula dance his way into Aleki and Lakalaka's friend circle, as he too signed with the Aztecs on Wednesday.
McDonald was a three-star recruit by ESPN, 247Sports and Scout. He amassed a school-record 290 tackles throughout his high school career en route to earning defensive player of the year honors from the team three times.
SDSU rounded out their defensive class with four defensive linemen, including former American River Community College transfer Anthony Luke.
Luke was the Aztecs' only recruit signed from a community college. He registered 43 tackles, 3.5 sacks and 12 tackles for loss in his only year at American River.
The Aztecs could continue to add talent to their 2017 recruiting class in the coming weeks, but all of signees should be announced before the team's spring practice on Feb. 27.