Aybar moves on from Angels with nothing but good memories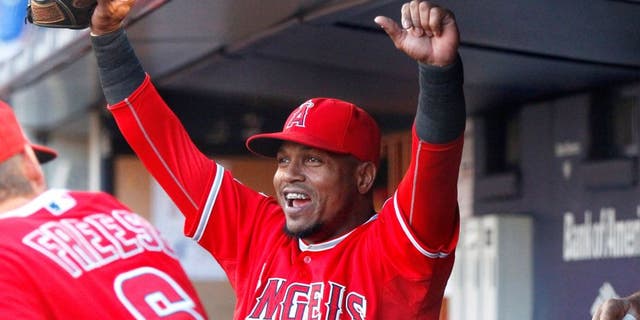 One of the longest-tenured members of the Los Angeles Angels, Erick Aybar, was traded late last week in the deal that brought the Halos shortstop Andrelton Simmons.
While it will take some time before this trade can be fully analyzed (considering the Angels also sent their two top pitching prospects to the Atlanta Braves in the deal), one thing is immediately obvious: Aybar will be missed.
He had been a stalwart of Mike Scioscia's Angels rosters for years, and suddenly having to switch organizations most likely came as quite a shock. Still, when asked by MLB.com's Alden Gonzalez what his favorite memory was about the Angels, his answer was simple:
2016 would have been the final year of his contract with the Angels, but Aybar told Gonzalez he was surprised to see himself traded at this point. Regardless, he had nothing but good things to say about the only MLB organization he's ever known:
Aybar also issued a 'thank-you' to fans and the Halos on his Twitter page, in both Spanish and English:
In 10 seasons with the Angels at the MLB level, Aybar owns a career line of .276/.315/.378 with one Gold Glove Award (in 2011) and one All-Star appearance (2014).
Needless to say, he'll be missed in Anaheim no matter what happens in the future.