Auburn optimistic Carl Lawson will return to the field this season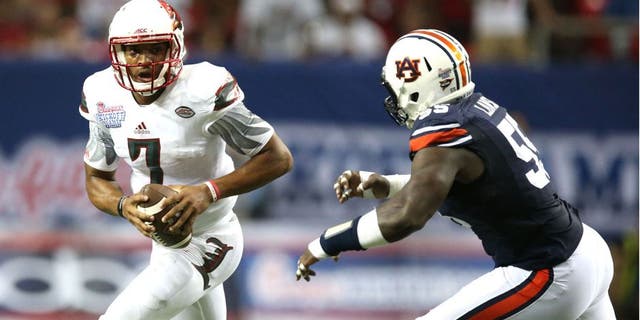 Could Lawson soon be returning to the field? Jason Getz USA TODAY Sports
For the second season in a row, the absence of Carl Lawson from the lineup has derailed any chance of Auburn fielding a competitive defense. The Freshman All-American appeared to have quickly regained his form in the opener against Louisville before eventually injuring his hip against the Cardinals in the second half.
While the injury was expected to sideline the star defensive lineman for a minimal amount of time, Lawson has not played since the first game of the season on Sept. 5.
Auburn defensive coordinator Will Muschamp gave the first good news in awhile on Lawson's status this week during his Wednesday media availability.
"He's on schedule to come back -- not this week -- but he's a guy that they've had on the field," Muschamp said. "Not practicing at all, but running and doing a lot of things they're doing with our staff. I believe he met with Dr. (James) Andrews today, so we'll continue to move forward with his situation.
"They haven't told me (a date) specifically, but we certainly expect him back, unless we have some sort of setback. That's why I don't want to come out and say a date. I think we're dealing with a situation that will be resolved soon."
The impact of Lawson's return could be huge for a unit struggling on the defense end. Auburn is 12th in the SEC in both sacks and scoring defense, 13th in rushing defense and dead last in total defense.
Auburn can't get much worse than that, however with Lawson in the lineup, they may just be able to improve enough to have a respectable defense for the second half of its schedule.
MORE NEWS: Want stories delivered to you? Sign up for our College Football newsletters.