ASU not overlooking 'improved' Buffaloes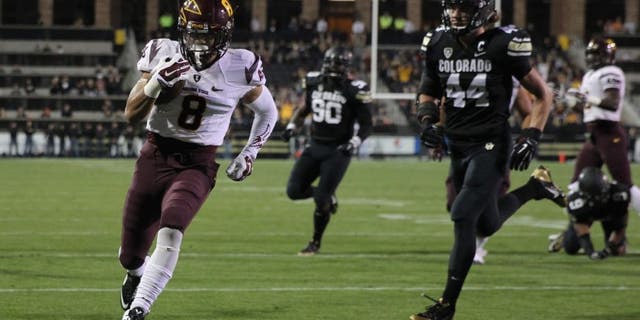 NEWYou can now listen to Fox News articles!
TEMPE, Ariz. -- Arizona State has never lost to Colorado. Despite their perfect 6-0 record against the Buffaloes, the Sun Devils are not overlooking their opponent this week.
Colorado (3-2, 0-1 Pac-12) is coming off of a 41-24 loss to Oregon but is a far cry from the 2-10 squad from a year ago.
"Definitely an improved group from the teams that we've played in the past," ASU offensive coordinator Mike Norvell said. "I've got a lot of respect for coach (Mike) MacIntyre, and the job that he does. (His) guys play extremely hard. They're doing a great job of getting takeaways."
Arizona State's offense had its best performance of the season against then-No. 7 UCLA on Saturday. But Norvell said there's still work to be done.
"I don't think we played, by any stretch, our best game. But there was a lot of things that we definitely improved on, and I thought you saw some flashes of who we can be, and what we can become," Norvell said. "There are still a lot of things we have to clean up to get to where we want to go."
BACK ON THE SIDELINES: ASU defensive coordinator Keith Patterson and Norvell were both on the ASU sidelines for a game for the first time ever.
Norvell had traditionally been on the sidelines, but started this year up in the booth.
"I love being a part of the game down on the field. There is a different perspective being up in the box. Being able to see the full field, there are certain things that (you) are probably a little quicker to see or to have a sense of," Norvell said. "But nothing matches the intensity and emotion of being down on the field."
Patterson said this was the first time he coached on the sidelines since 2010, when he was the defensive coordinator for Tulsa.
"Every situation, team and year is different," Patterson said. "Sometimes, being down on the field is better. Sometimes being in the box is better. Just to see the confidence in their face, and just getting them to play the next play.
"For this week we'll see. I just wanted to bring some positive energy to the sideline. The kids responded and they played very hard," Patterson said.
TOP TACKLERS: Patterson said he's not surprised that linebacker Salamo Fiso (39 solo tackles) and Jordan Simone (37 solo tackles) are the top two tacklers in FBS.
"Those guys do a great job of studying. They also have a lot of valuable experience of playing in our scheme — understanding how people are going to try to attack us. They put themselves in a position to make plays," Patterson said. "I think it's just their preparation and their mentality in which they approach the game."
Patterson said he is especially pleased with how Fiso has grown as a player, now that he is in his third season as a starter.
"It's all Salamo. He has just taken that experience that he has in our system, and he's just chosen to commit to being a better player," Patterson said.