Astros' Springer not dwelling on HBP from Royals' Volquez ahead of ALDS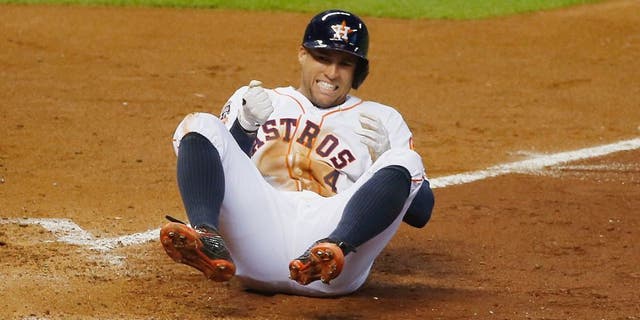 NEWYou can now listen to Fox News articles!
Back on July 1, Houston Astros outfielder George Springer was hit in the wrist by a fastball from Kansas City Royals starter Edinson Volquez. That HBP put Springer on the shelf until September 4 with a fractured right wrist.
In Springer's absence, the Astros went 12-12 in July and 15-13 in August. By the time Springer returned on September 4, their once five-game lead in the AL West was reduced to three (a lead they also lost to the Texas Rangers).
On Thursday, the Astros will clash with those very same Royals in Game 1 of the ALDS...but Springer doesn't hold any ill will toward Volquez, the Royals' scheduled Game 3 starter.
"He wasn't trying to hit me," Springer told Jose de Jesus Ortiz of the Houston Chronicle. "There was no intent there, obviously. It's just a part of the game. It's unfortunate it happened, but it's in the past. I'm here now, and I'm excited to have this opportunity to play them here."
Springer added to Ortiz that Volquez reached out to him after the incident.
Intent or not, Volquez's poorly-located fastball cost the Astros one of their stars for two months of a summer pennant chase - so it's a good thing for both sides that this particular narrative won't be a distraction in what could shape up to be a rather thrilling series.