Astros quiet The K, Royals in Game 1 ALDS win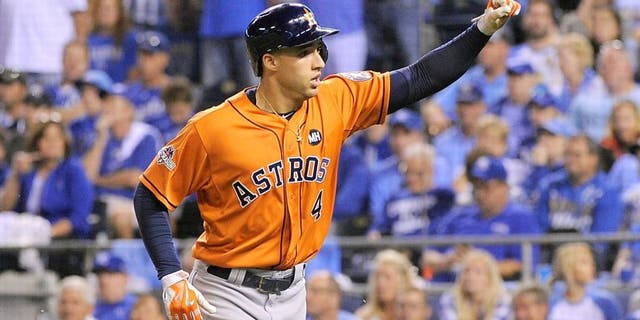 NEWYou can now listen to Fox News articles!
The Astros took Game 1 of the ALDS from the Royals 5-2 Thursday night in Kansas City.
Houston struck early with two runs in the first inning and another in the second before a nearly hour-long rain delay halted its quick start. When play resumed, Astros starter Collin McHugh remained on the mound while the Royals elected to remove starter Yordano Ventura with the team down 3-1.
The move seemed to pay off initially for the Royals.
Reliever Chris Young took the reins after the rain and retired six of the first seven Houston batters he faced. Then Kendrys Morales added his second solo homer of the night to bring the Royals to within one.
It appeared the momentum was swinging in Kansas City's favor, but that was as close as they would get the entire game.
The Astros offense figured out Young and Houston's pitchers kept the Royals from mounting any sort of rally to hand the Royals a loss in their return to the postseason.
Game 2 is Friday at 3:30 p.m. ET.