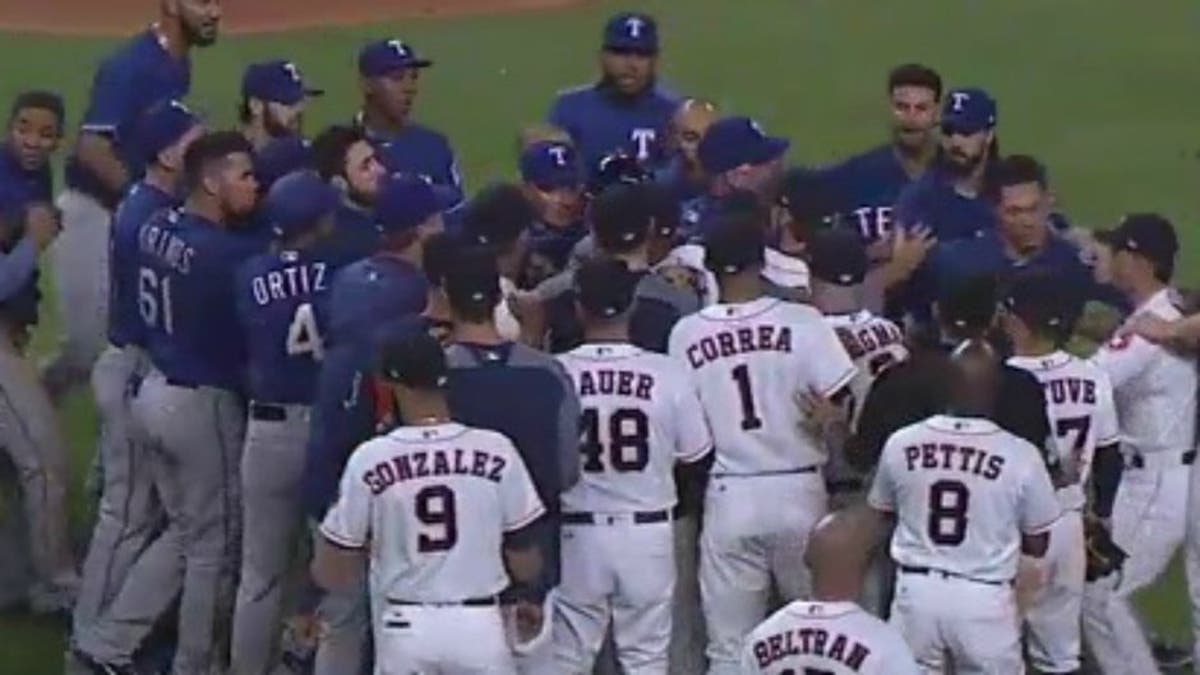 The Texas Rangers have won the AL West the past two seasons, thanks in large part to their dominance of the Houston Astros. And one of baseballs best new rivalries got a bit testy during the teams first meeting of the season Monday night at Minute Maid Park.
The Astros, who were 10-28 against the Rangers the past two seasons, came away with a 6-2 win in Mondays game, which featured a benches-clearing incident in the top of the sixth inning.
The issues began when Rangers starter Andrew Cashner hit Astros second baseman Jose Altuve with a pitch in the first inning and then Astros first baseman Yuli Gurriel in the second inning. When Rangers first baseman Mike Napoli who had homered in the fourth inning stepped to the plate in the sixth, the Astros Lance McCullers threw a pitch behind him. That resulted in some jawing and the emptying of the benches (but no punches):
That pitch also might have ignited the Astros, who trailed 2-1 at the time but erupted for five runs in the seventh inning.
Napoli on the incident afterward, per the Fort Worth Star-Telegram: Obviously, I didnt like it. Ive been in the game a long time. I understand how things work. Two of their guys get hit, but all he has to do is put it in my hip and I run down to first base. No one likes 95 [mph] behind their back. It is what it is. I understand the game. I understand two of their guys got hit. My mind wasnt right when I got up there … I should know the situation, two outs, nobody on. It caught me off guard.
McCullers put a lighthearted spin on it when speaking to reporters:
"He said I smell good," McCullers said, per MLB.com. "I said, 'I got some new cologne. Do you want to come smell it? You can smell it.' That was as it."
Mondays meeting was the first of four this week in Houston and the first of 19 games between the teams this season. Should be fun.