As only he can, Bielema explains the origin of the chrome red helmet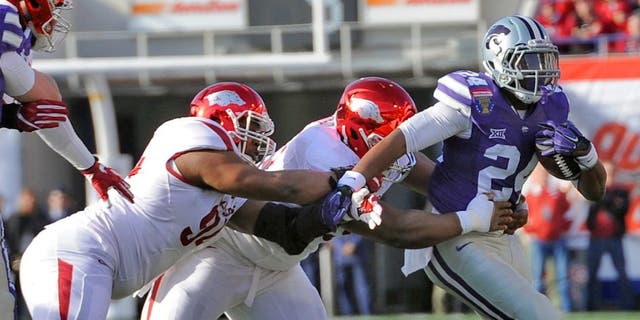 NEWYou can now listen to Fox News articles!
As the Razorbacks took the field for their 45-23 Liberty Bowl win over Kansas State, the first thing you had to have noticed were the chrome red helmets Arkansas donned.
According to Arkansas head coach Bret Bielema, the story behind the helmets goes back to his Wisconsin days.
"I'd actually designed the helmet, that kind of color, back when I was back at my old school (Wisconsin) but when I left to come to Arkansas and they wouldn't let me coach in the Rose Bowl, I took the helmet with me," Bielema said. "So that design had been there for awhile."
Clearly Bielema was having some fun with the Badgers with that comment. Don't be surprised if the helmet makes a return for a big game next season.