Aric Almirola expects to miss 8 to 12 weeks after hard crash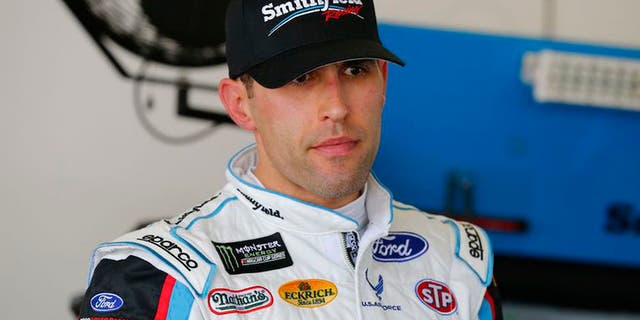 CONCORD, N.C. -- In his first press conference since breaking his back last week in a hard crash at Kansas Speedway, Richard Petty Motorsports driver Aric Almirola sounded confident about returning to the cockpit, but not until he is fully healed.
Almirola suffered a compression fracture of his T5 vertebra after a hard crash in the Go Bowling 400 at Kansas Speedway, where his No. 43 RPM Ford slammed hard into the wrecked car of Joey Logano.
Speaking in the Charlotte Motor Speedway Media Center Friday morning, Almirola said doctors have told him, With this type of fracture, its eight to 12 weeks until the injury is healed.
And Almirola made it clear he wont rush his recovery just so he can get back.
Im not going to risk it, said Almirola. Whenever the doctors clear me, Ill be ready.
Almirola was accompanied by Brian Moffitt, the CEO of Richard Petty Motorsports, and William Heisel PA-C, Director of OrthoCarolina Motorsports.
In the Kansas crash, the back end of Almirolas car came of the ground in the incident which began when Logano appeared to have a brake rotor failure that caused him to turn into Danica Patrick and putting both of those cars in the wall.
Neither Patrick nor Logano was injured in the crash, which brought out a caution on Lap 201 of the 267-lap race.
I should have missed the wreck, said Almirola, who committed to the outside line, only to see cars come up in front of him and the racing surface suddenly turn slick, perhaps from liquids from one of the cars in front of him.
When that happened, Almirolas car was out of control.
My car wouldnt slow down. It wouldnt steer, said Almirola. From that moment on I felt like I was on railroad tracks.
During a 27-minute red flag period after the crash, rescue workers cut the roof and windshield off of Almirolas car to get him out. He was airlifted to a local hospital where he spent the night before returning home to Mooresville, N.C. on Sunday.
Veteran Regan Smith will fill in for Almirola this weekend at CMS. Smith will drive the No. 43 in the Monster Energy Open at Charlotte, and if he wins one of the three stages of the race, Smith will advance to the main event, the Monster Energy All-Star Race.
The three stage winners in the Open, along with a Fan Vote winner will advance to the all-star race and fill out the 20-car field.