Andres Guardado Can't Solve Cesar Sanchez, and Chicharito Preps for Champions League Final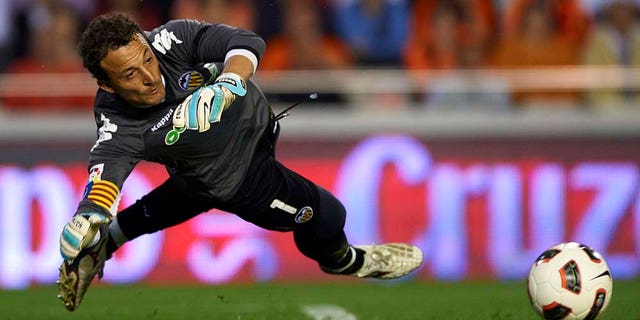 A weekly recap of how Mexican internationals fared over the weekend.
Andrés Guardado
Outside of a season-ending injury, it is one of the worst feelings a soccer player can endure – the drop, demotion, relegation.
That's what Mexican international midfielder Andrés Guardado had to go through this weekend.
After a 20-year stay in the top flight, Guardado's team, Deportivo Coruña, was relegated from Spain's La Liga to the Second Division in a 2-0 loss to Valencia on the final day of the season on Saturday.
Deportivo (10-15-13, 43 points) finished 18th out of 20 teams, one point out of the safety zone. A draw would have saved Deportivo, which allowed Aritz Aduriz to score in the fourth minute and Roberto Soldado to put home an insurance goal six minutes into stoppage time.
It was not known whether Guardado has a clause in his contract that would allow him to get out of his contract due to the club's demotion.
Guardado tried, but he and his teammates could not solve goalkeeper César Sánchez. He sent a volley into the penalty area in the 25th minute. Diego Colotto headed the ball to Riki, who took a shot, but Sánchez made the save.
With a minute remaining in the half, Guardado fired off-target while he was pressured by two Valencia players. Valencia attempted a free kick that missed the net in the 56th minute. In the 78th minute, Guardado shot from close range, but Sánchez saved it.
Two minutes later, Guardado was replaced by Lassard.
Javier Hernández
With the English Premier League crown already sewn up and with the UEFA Champions League final looming Saturday, Manchester United did not need Javier Hernandez's heroics on Sunday.
Not only did Chicharito not play, but he did not dress for United in its 4-2 victory over Blackpool in the regular-season finale for both teams before 75,400 spectators at Old Trafford.
ManU and Hernández will prepare for its last great challenge of the season — trying to best Barcelona and Lionel Messi in the Champions League final at Wembley on Saturday.
United celebrated winning its record 19th title and 12th English Premier League championship after Sunday's game as it relegated Blackpool to the Championship, the second division of English soccer.
After the CL final, Hernández will join his Eli Tri teammates to prepare for the CONCACAF Gold Cup. Mexico will compete in Group A along with Costa Rica, Cuba and El Salvador.
The Mexicans will meet El Salvador at The Home Depot Center in Carson, Calif. on June 5, face Cuba in Charlotte, N.C. on June 9, and take on Costa Rica at Soldier Field in Chicago on June 12 in the group stage.
Giovani dos Santos had two close encounters in the opening five minutes but did not score in Racing Santander's 2-1 La Liga season-ending loss to Athletic Bilbao.
Jonathan dos Santos
Dos Santos was called up from the B team for Barcelona's 3-1 win at Malaga, but did not see any action in the the La Liga match on Sunday. He also did not play for Barca B, which won the last Catalan derby of the season, blanking Girona, 2-0. The B team will host Salamanca on Sunday.
Rafa Márquez
The veteran central defender endured a difficult game in the New York Red Bulls' 2-2 MLS tie at the Houston Dynamo on Saturday night. Not only were his free kick and corner kick responsibilities taken away from him, he was called for a penalty kick for tripping Cam Weaver in the penalty area.
Brad Davis converted the ensuing penalty. Márquez also was slapped with a yellow card for taking down Geoff Cameron at midfield in the 63rd minute.
The Red Bulls, who fell out of the Eastern Conference lead, host the defending MLS champion Colorado Rapids on Wednesday.
Omar Bravo
After missing the last five games recovering from a sports hernia injury, the designated player and forward started and played the opening 76 minutes of Sporting Kansas City's 1-0 MLS loss to the Seattle Sounders.
KC, which has been blanked in three of its last five games, visits the Rapids on Saturday.
Francisco Mendoza and Mariano Trujillo
Mendoza replaced midfielder Jorge Flores in the 58th minute of Chivas USA's 1-0 loss to the LA Galaxy on Saturday night.
Trujillo did not play.
Chivas visits the Columbus Crew on Saturday.
Carlos Salcido
In a rare game on the bench, the left fullback did not play for Fulham in its 2-2 EPL tie with Arsenal.
Carlos Vela
Vela did not dress for West Bromwich Albion's 3-3 draw at Newcastle United on Sunday.
Pablo Barrera
Barrera also did not dress for West Ham United in its 3-0 EPL home defeat to Sunderland on Sunday. West Ham was demoted last week.
Coaches
Javier Aguirre
Aguirre, who twice directed the Mexican National Team to the World Cup (2002 and 2010), coached Real Zaragoza out of the relegation zone and into safety with a 2-1 La Liga victory over Levante. Real (12-17-9, 45).
Real began the day in the 18th place, and climbed to No. 13.
Carlos de los Cobos
De los Cobos' position as Chicago Fire coach became even more tenuous after the club dropped a 2-1 decision at the Philadelphia Union on Saturday night.
The Fire (eight points) fell to 1-4-5.
Chicago plays at the San Jose Earthquakes in a Lamar Hunt/U.S. Open Cup qualifying match on Tuesday before hosting the same club on Saturday.
Michael Lewis, who has covered international soccer for three decades, is a frequent contributor to Fox News Latino. He can be reached at SoccerWriter516@aol.com.
Follow us on twitter.com/foxnewslatino
Like us at facebook.com/foxnewslatino