Andre Johnson scrapes the pylon for ridiculous touchdown catch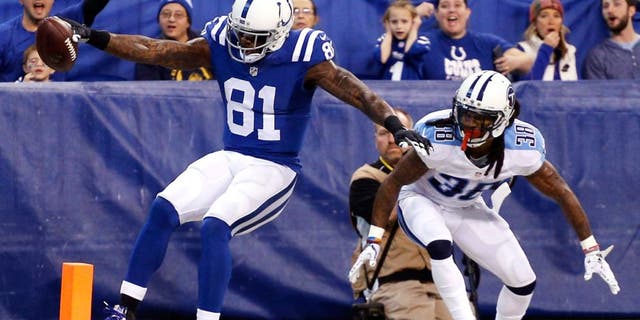 The Indianapolis Colts are playing Sunday's game against the Tennessee Titans with a pair of quarterbacks signed off the street earlier this week, but you wouldn't know it based on the team's offensive output.
With the Colts trailing 14-13 late in the first half, quarterback Ryan Lindley found Andre Johnson for an incredible 18-yard touchdown reception. The 13-year veteran made the catch while falling at bounds, but was able to scrape the pylon with his foot, while extending the ball over the goal line for the score.
Johnson's touchdown helped the Colts take a 20-14 lead at the half, with scoring drives lead by both Lindley and starter Josh Freeman.
Indianapolis is without it's top three quarterbacks in Andrew Luck, Matt Hasselebeck and Charlie Whitehurst, all of whom missed Week 17 with injuries.