All-U.S. Open mailbag: Ranking the best possible storybook outcomes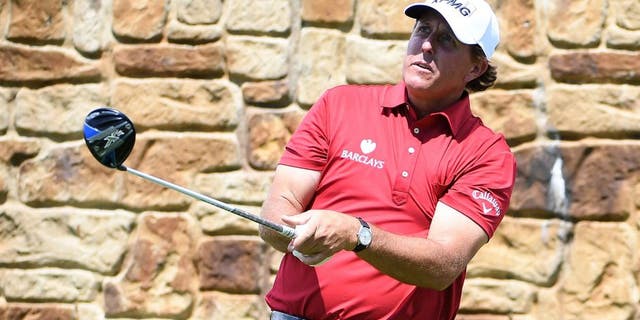 NEWYou can now listen to Fox News articles!
OAKMONT, Pa. -- Well, everybody, we made it! We did it! We finally got to the first step in this maddening 2016 summer season, one that will make the FedEx Cup playoffs look like a relaxing walk through a very peaceful park.
It's officially U.S. Open week, and the fact that we are back at Oakmont Country Club and a traditional style of course for this particular major championship is not only comforting, but exciting.
Nothing is like Oakmont. On Monday, I wrote about playing it for the first time and why it's so perplexing for players to figure out, but I figured you all have questions and I might as well try to give you some answers.
As always, the best way to get a question in is to fire it my way on Twitter at @shanebacon or send an email to theclubhousewithshanebacon@gmail.com.
Okay, let's peg it and go!
Bacon: A very good question to start, and one that I'm not sure has an answer.
I chatted with legendary head pro Bob Ford on The Clubhouse podcast (Go listen! Subscribe! Review! Thank you!) about the membership and their obsession with being the toughest on the planet, and frankly, I think that the respect you have for the course once you play it trumps your score.
I think an 18-handicap is going to struggle there, of course, because any mistake is amplified by the rough/greens/bunkers/ditches, but I also think that if you take a step back and just appreciate Oakmont for its beauty, it's ridiculously ahead-of-its-time design and the subtle bumps and slopes, you'll leave happy even if you need an abacus to figure out your score.
I think a better player will definitely understand why it's so amazing and appreciate everything that it is a bit more, but that's not to say a higher-handicapped golfer can't fall in love with it either.
Bacon: After spending a couple of years closely with the USGA and focusing most of my attention on this specific major championship, I think my answer is simple: I want to see the sternest test of golf that doesn't fall into the ridiculous. That means I want to see guys have to play brilliant golf on a hole to make a par, perfect golf on that same hole to make a birdie, and have mistakes made actually matter.
So many times guys can miss fairways with drivers and just wedge it out of the semi-thick rough on the green with a birdie opportunity, knowing that strategy has been thrown out the window because the fear of a missed fairway has been made obsolete for a number of reasons (equipment, fitness, angle of attack). At the U.S. Open, all of these things come back, and come back with a vengeance.
Do I want to see guys shooting 75 four days in a row and win? No, I don't want it to be that demoralizing, but I do think the idea of a golf tournament that tests every part of one's game the entirety of a round is unique and special, and frankly, needed.
If you have a minute, go back to the 2007 U.S. Open. Tiger Woods struggled with his short game throughout the whole week and that's why he didn't win at Oakmont. Jim Furyk, who was right there, made two poor decisions on two scoreable holes and that cost him the tournament. And then there was Angel Cabrera, who put together a brilliant final round of golf, shooting a 69 to claim his first U.S. Open title. That day at Oakmont was as tough as they come, with only two players breaking 70, but one of them was the eventual champion, and his score was indicative of a guy that controlled his golf ball for 18 straight holes on Sunday.
Oakmont isn't impossible. It's tough -- really, really tough -- but it's not totally unplayable. Some guys this week will play solid golf and post rounds under par, and some guys will be loose with their golf swings and be closer to shooting 80 than 70. That's what this championship is about, and I think that's exactly how it should be.
Bacon: It has to be 1962, and I guess I'd pick the 18th green on Saturday when Arnold Palmer had that 12-footer or so to win the U.S. Open outright.
I know he didn't make it, eventually losing to Jack Nicklaus in an 18-hole playoff that Sunday, but I think that buzz, that anticipation from the local crowd rooting for their guy, would have been something special to take in.
Bacon: OK, the best possible storylines, in order (and I'm not talking Tiger since he isn't playing):
1. Phil Mickelson finally wins the U.S. Open -- We all know of his second-place finishes and his struggles to close out this championship in particular, so every U.S. Open until he retires will have Phil winning trump everything else (unless Jack walks out and gives it one more go or something). I have to interview players when they finish their round, and I've already started to sweat thinking of what the heck I would ask Phil if he walked off the 18th green a U.S. Open champion. I'm thinking my first question would be, "Welp, there it is, amirite?!"
2. Jordan Spieth going back-to-back -- The win at Colonial erased all the demons from Augusta National, at least in my opinion, so I'm going with Spieth winning two straight U.S. Opens (which FOX's own Curtis Strange will be on the button ready to comment on as the last to do so).
3. Sergio Garcia winning a major -- Say it's too high, I don't care, I think Sergio finally winning a major would trump anything else besides the two storylines above. People love to love or love to hate Sergio, depending on what side of the El Nino fence you sit, and I think him winning would dominate sports headlines more than a Jason Day victory or a Rickie Fowler win would. Maybe that's just personal opinion, but I'm sticking to this.
4. Rory McIlroy wins on a tough, tough track -- For whatever reason, people love to knock Rory for not having a ton of success on the really tough golf courses, so Rory winning at Oakmont would shut all those people up.
5. Jason Day dominating again -- If he wins it would be two majors in the last three, and it would add to a resume that I have a feeling will continue to grow as the summer goes along.
Bacon: Hum. I guess I'd go --
Oakmont
Winged Foot
Shinnecock Hills
Pebble Beach
Merion
Olympic Club
Pinehurst #2
Oakland Hills
Bethpage Black
Is that nine? Sorry, I couldn't leave some of those out. And if we did nine, that means we could do Oakmont twice much like St. Andrews does, so have Oakmont host it every fifth year (2020, 2025, etc). I'm not sure the members would be down for that, but I think it would be great to have a "home" course like the British does at the Old Course and have Oakmont a more regular addition to the rota.
But I also love incorporating some different looks around the nation, so I'm sticking with the way they do it. I'm pumped for Erin Hills and Los Angeles Country Club, which have never hosted the U.S. Open, and think the new mixed with the old makes sense for a national championship.
Bacon: 3-over wins it outright, 4-over is in a playoff.
Bacon: Oakmont would disagree with you, historically. If you look back over the winners, it's rare that a no-name pulls out the victory.
Ben Hogan, Nicklaus, Johnny Miller, Larry Nelson, Ernie Els (who was a relative unknown at the time he won), and then you have Cabrera, so obviously a mix of legends with some guys that maybe you didn't expect.
I talked to Paul Azinger about this on the Clubhouse last week, but when I look back at the '07 U.S. Open, I wonder if that will be the one Tiger Woods regrets the most not winning, considering the course it was played on and how Oakmont is such a historical course to win on.
Nicklaus famously said of St. Andrews, "If you're going to be a player people remember, you have to win an Open at St. Andrews," and I wonder if the legends feel the same way about Oakmont.
Tiger had that U.S. Open all set up to win, and just couldn't get the putts to drop when he needed them. The guy hit 17 greens in a row on Saturday before eventually missing the 18th and making a bogey, and was absolutely grooving it with the swing. Sadly for Woods, the short game was shaky all week, and that's why he wasn't able to claim that U.S. Open.
I'm sure the Y.E. Yang PGA Championship looms, as does the four birdies to close the PGA that he lost to Rich Beem, but that '07 U.S. Open was his to win, and he just couldn't do it.
Bacon: So many good ones to pick from, but I think I have to take 2008 as the best one I've ever been a part of.
Last year's was pretty incredible when you look back at who was involved and how it all went down (Louis Oosthuizen shot 29 on the back! Jordan Spieth goes birdie-double-birdie to win! Dustin Johnson birdies 17 and hits two of the best shots you'll ever see on the 18th only to three-putt for a par!).
Historically, you have to toss in the '62 U.S. Open, 1960 at Cherry Hills, '99 at Pinehurst, and the '82 finish at Pebble Beach as some of the best. I'm always a fan of the 1950 U.S. Open, just because it was the first true iron man performance from a player when Hogan won that one at Merion just over a year after his terrible car wreck.
I think if I had to pick any to be at in person, I would have to go with '82. I think seeing Tom Watson pitch that shot in from that spot on the 17th at that course with that view would have been absolutely epic, and something you'd never forget. Also, historically, being able to witness Payne Stewart's putt on the 72nd hole at Pinehurst would have been a pretty tough goosebump moment to beat.