ALL-STAR: Earnhardt Jr. Wins Showdown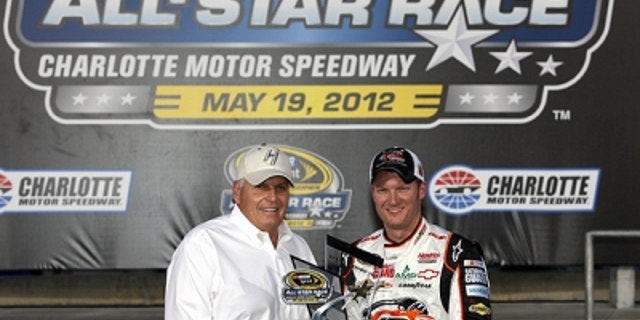 Dale Earnhardt Jr. won a race!
It wasn't a Sprint Cup point race, but it was important nevertheless.
Earnhardt Jr., battling a frustrating Cup winless streak, led all 40 laps Saturday night in winning the Sprint Showdown qualifying race for the Sprint All-Star Race later in the evening.
Earnhardt Jr. thus advanced to the All-Star Race along with AJ Allmendinger, who outran Jamie McMurray in a tight duel for second place, the only other transfer spot in the preliminary race.
Following in the top five were Martin Truex Jr. and Juan Pablo Montoya.
"This is all about going fast right out of the gate," Earnhardt Jr. said. "I think our car is pretty good. We'll work on it and try to do our best [in the All-Star race]."
Earnhardt Jr. jumped to the lead at the start of the race and led the first 20 laps before NASCAR threw a competition caution at the halfway point of the race.
Truex Jr., Jeff Burton, Montoya and Aric Almirola followed Earnhardt Jr. in the top five after 20 laps.
Trouble struck early for Allmendinger, who had a flat tire on the pace lap and pitted for a tire change as the field was a few seconds from taking the green flag to start the race.
Allmendinger was able to get fresh tires and return to the track without being lapped.
He roared through the field in the second half of the race and put himself in position to challenge for second place near race's end. He tangled with McMurray with two laps to go, tapping the rear of McMurray's car and forcing him into a wiggle. Allmendinger then passed on the inside.
"I was going to get in there or get in a wreck trying," Allmendinger said.
Former series champion Bobby Labonte also advanced into the All-Star Race via the fan vote.
Mike Hembree is NASCAR Editor for SPEED.com and has been covering motorsports for 30 years. He is a six-time winner of the National Motorsports Press Association Writer of the Year Award.