Alex Rodriguez closing in on Wille Mays with homer No. 659 in Yankees win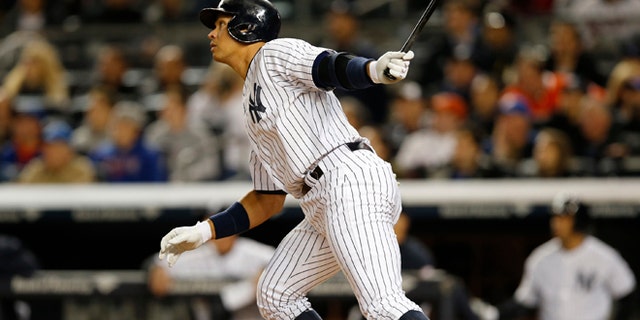 NEW YORK (AP) – Alex Rodriguez is one big swing from matching Willie Mays. Whether the New York Yankees would celebrate that achievement — or pay for it, for that matter — remains to be seen.
Rodriguez hit his 659th home run to move within one of Mays for fourth place on baseball's career list, and the Yankees took advantage of several mistakes by the suddenly sloppy New York Mets in a 6-4 victory Sunday night.
"Willie was my father's favorite player. I remember hearing about Willie Mays and Mickey Mantle all the time. He's one of my heroes," Rodriguez said.
The Yankees and Rodriguez have a $30 million marketing agreement that calls for him to receive $6 million each for up to five accomplishments, payable within 15 days of designation by the team. The accomplishments were contemplated to be home runs 660, 714, 755, 762 and 763.
But with A-Rod's career tarnished by performance-enhancing drugs, the Yankees are thinking about letting the milestones pass without making a designation, which could lead to another legal fight between the sides.
During his surprisingly powerful start to this season, the Yankees have virtually ignored Rodriguez's pursuit of Mays.
Asked if he knows what the team might do to mark No. 660, the longtime slugger said, "I don't have a marketing degree, so I'm just focusing on playing baseball."
Rodriguez connected in the first inning. He drove a 2-2 curve from Jonathon Niese (2-1) to right-center, with the ball bouncing off the top of the fence and over for an opposite-field solo shot at Yankee Stadium.
"I think it set a tone for our offense," he said.
It was the fifth homer of the season for A-Rod, who sat out last year while serving a drug suspension.
"Another big night," Yankees manager Joe Girardi said. "He sparked our offense."
After falling behind early, the Yankees scored four times in the second and took two of three in the first Subway Series of the season. The crosstown rivals meet again at Citi Field in September.
Rodriguez's first chance to match Mays came in the second inning, when the three-time MVP doubled. He also grounded into a forceout and lined out to left field.
"The buzz was incredible," Rodriguez said. "I just felt a lot of energy in the building, and it was fun."
The Yankees have won eight of 10 after a 3-6 start.
Five relievers combined to throw 4 2-3 hitless innings for the Yankees. Chasen Shreve (1-0) earned his first major league win by getting cleanup batter Michael Cuddyer to ground into an inning-ending double play with two on in the fifth.
Chris Martin got five outs, Dellin Betances struck out three in the eighth and Andrew Miller closed for his seventh save in as many attempts.
"They all came in and did their job and threw really well," Girardi said.
Curtis Granderson hit a leadoff homer for the Mets, and slumping Daniel Murphy had a pair of RBI doubles off starter Nathan Eovaldi.
But an error by Murphy at second base set up the Yankees' sixth run, and Rodriguez was handed an RBI on the next play when shortstop Wilmer Flores fired high into the photographer's well behind first base, squandering what should have been an easy double play.
In the next inning, Eric Campbell forgot how many outs there were and was easily doubled off first base on a routine fly to right.
Campbell also committed an error at third base, and Cuddyer made one in left field that cost the Mets a run. It was an uncharacteristic performance this season by a surprising team that owns the best record in the majors at 14-5.
"In a game like this, you can't make those mistakes," manager Terry Collins said. "Just a bad night for us."
Like us on Facebook
Follow us on Twitter & Instagram