Boston's David Ortiz suspended 1 game by MLB for bumping umpire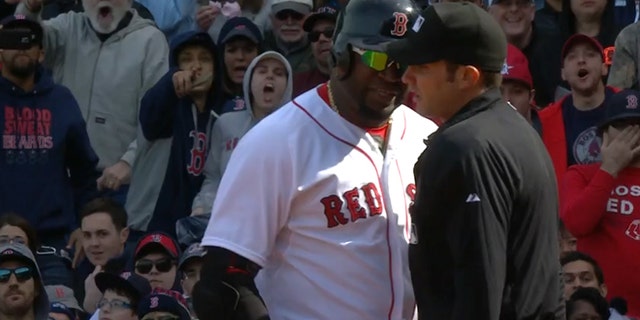 Boston designated hitter David Ortiz has been suspended for one game and fined by Major League Baseball.
MLB said Ortiz, known as 'Big Papi,' was punished by senior vice president Joe Garagiola Jr. for making contact with umpire John Tumpane during the fifth inning of Sunday's game against Baltimore. Ortiz was ejected by Tumpane after the batter was upset that third base ump Jerry Meals called a swing on an attempted check of a 1-1 pitch.
Ortiz appealed Tuesday's penalty. Unless the appeal is withdrawn, the penalty will not be served until the appeals process is complete.
Your browser does not support iframes.
The Red Sox slugger's reaction during Sunday's game prompted a tweet from Orioles Hall of Fame pitcher Jim Palmer, who found Ortiz's reactions disrespectful.
Ortiz responded to the tweet by saying to reporters on Monday, "Is that how he wants to get respect from us? Is that how he wants me to respect him? It's not going to happen."
And about Palmer he said: "Actually, I thought that [he] was one of my guys. All of a sudden, now he's killing me, huh? I guess anybody who wants to get famous or make some noise comes to Papi, right?"
Since then Palmer responded using the #papimademefamous.
Includes reporting by the Associated Press.
Like us on Facebook
Follow us on Twitter & Instagram