What a swing: Adrian Gonzalez makes MLB history after three home runs over Padres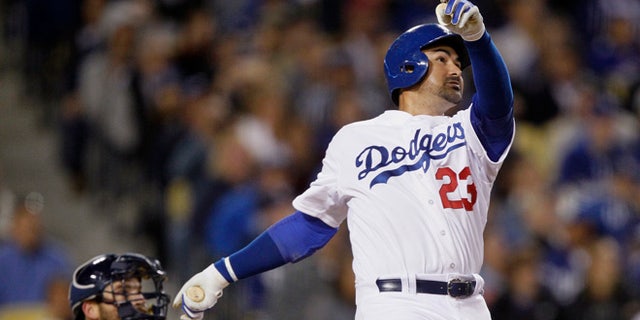 NEWYou can now listen to Fox News articles!
LOS ANGELES (AP) – Adrian Gonzalez insists he's no home run hitter, even if his current power surge suggests otherwise.
It's simply about making good contact with the ball for the 32-year-old first baseman, who is dogged in his hitting preparation.
It's paying off, with three more home runs Wednesday night that made Gonzalez the first player in major league history with five in the season's first three games. He helped the Los Angeles Dodgers beat the San Diego Padres 7-4 to win their opening series 2-1.
"Something like that is always cool to be able to accomplish," Gonzalez said.
Fittingly, Gonzalez received his Silver Slugger award from last season before the game. Then he went out and had a four-hit game to go with consecutive three-hit games on Monday and Tuesday, becoming the first National League player to do so since Orlando Cepeda of San Francisco had three straight three-hit games in 1963.
"He wasn't bad today, huh?" said Dodgers manager Don Mattingly, a renowned hitter for the Yankees during his playing days. "When you get hot you're just feeling good. You want to ride that streak as long as you can as far as hitting the ball hard."
Gonzalez homered in four consecutive at-bats dating to Tuesday before his RBI single in the sixth. His five homers in the first three games made major league history, according to information provided to the Dodgers by Elias Sports Bureau.
"He's about as locked in as he can be," starter Brandon McCarthy said. "That's a nightmare for a pitcher to face. He's older and knows exactly his routine. There's so much discipline in his at-bats. It's very hard to fool him."
The Dodgers rallied from a 2-0 deficit in the first to help McCarthy (1-0) earn his first win as one of eight new players on the team this season. The right-hander allowed nine hits and four runs, struck out nine and walked one. Joel Peralta pitched the ninth to earn his first NL save.
Gonzalez homered in the first and he led off the third with another homer, extending the Dodgers' lead to 5-2. He led off the fifth with his third homer — all off Andrew Cashner — and took a curtain call from the dugout steps.
"I made three mistakes in the same three spots," Cashner said. "I've got to be better than that and mix in more some off-speed stuff, especially when I'm not locating my fastball."
Gonzalez received a standing ovation when he came to the plate in the sixth. The Padres' infield convened on the mound for a conference before Frank Garces gave up an RBI single to Gonzalez, making it 7-4.
Gonzalez became the third player in franchise history with homers in his first three games, joining Jimmy Wynn in 1974 and Carl Furillo in 1955.
McCarthy helped himself, drawing a bases-loaded walk off Cashner (0-1) that forced in Carl Crawford and tied the game 2-all in the second.
"It was the loudest I've ever heard it when I've been at bat," McCarthy said. "Usually when I'm hitting people go to the restroom."
The Dodgers took a 3-2 lead when Jimmy Rollins was safe at first after a successful challenge by the Dodgers. Juan Uribe scored from third when first baseman Yonder Alonso bobbled the ball hit to him by Rollins, who was originally called out.
Yasiel Puig grounded into an inning-ending fielder's choice double play, allowing Joc Pederson who walked, to score and make it 4-2.
Cashner gave up eight hits and a career-high-tying six runs — five earned — in five innings, struck out six and walked three. He served up three homers in one game for the first time since May 30, 2013, against Seattle.
Justin Upton hit a two-run homer with two outs in the first for the Padres. Will Middlebrooks homered leading off the sixth and Yangervis Solarte added a RBI double.