Agent for Albert Pujols to Talk with Cardinals; Marlins Offer $225 million, Reports Say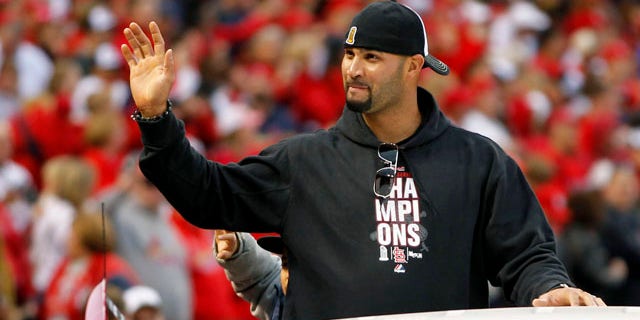 It may be November, but the battle for Albert Pujols is reaching a fever pitch.
The St. Louis Cardinals have turned their attention to the prized free agent this week, baseball insiders have confirmed with ESPN's Jerry Crasnick. That comes days after the Miami Marlins met with Pujols and reportedly offered him a 9-year $225 million deal.
Cardinals General Manager John Mozeliak expects to meet with Pujols' agent, Dan Lozano, at the GM meetings in the hopes of resigning the nine-time All-Star and three-time MVP to a long-term contract.
"From a strategic standpoint I don't think we need to divorce ourselves from that or to try to simply ignore it," Mozeliak said at baseball's general manager meetings. "The facts are he's an iconic player and he's been the face of this organization for a long time. To deny that or to fail to recognize it, I don't think you're looking at it through the proper set of lenses."
If the Cardinals aren't able to keep their icon, Mozeliak has made it clear they aren't looking to sign fellow free agent first baseman Prince Fielder; instead, they will look to solve their problem in house, according to stltoday.com.
"Though Mozeliak publicly has never connected the dots, the club intends to move Berkman to first base and install Allen Craig in right field should Pujols go elsewhere," the website says.
The Cardinals' push comes as the Marlins, which will debut their brand new ballpark, are trying to make a splash by signing Pujols. A Yahoo story on Wednesday reported the Marlins' blockbuster offer – which, at $225 million, is a first for a franchise known more for its frugality than its on-field performance.
The deal would be more than what the St. Louis Cardinals originally offered Pujols – rumored to be between $200 to $210 million – during spring training last year.
The Marlins are also said to have offered Mets shortstop Jose Reyes a 6-year, $90 million deal, according to Fox Sports.com.
Follow us on twitter.com/foxnewslatino
Like us at facebook.com/foxnewslatino