After vandalism on TCU and Baylor campuses, ADs issue joint warning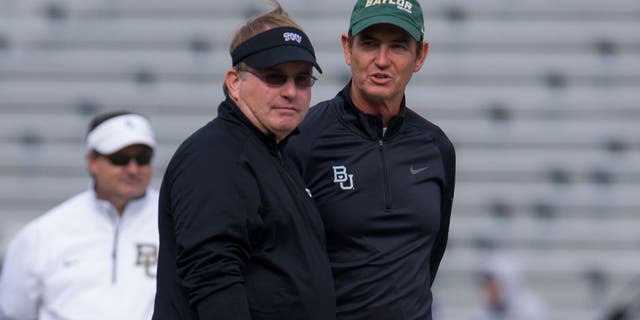 NEWYou can now listen to Fox News articles!
In an apparent retaliation for vandalism to the Robert Griffin III statue outside Baylor's McLane Stadium, a wall on TCU's campuse was spray painted with the score, 61-58.
The 61-58 score, of course, was the final of Baylor's victory over TCU last October, a score that would come under almost weekly scrutiny as the Horned Frogs stayed ahead of the Bears in the College Football Playoff rankings for the majority of the season until the final ranking put Baylor ahead, but left both programs out of the inaugural four-team playoff.
On Friday, the athletic directors at both schools were eager to put a stop to the vandalism ahead of a rivalry game that isn't scheduled until Nov. 27. TCU athletic director Chris Del Conte and Baylor AD Ian McCaw released this joint statement:
"TCU and Baylor are both outstanding institutions and share a proud athletics history," Del Conte said. "Both campuses have recently been hit by acts of vandalism directed towards each other. These actions will not be tolerated. We are working closely with Baylor and public safety officials at both Universities on their investigations. We implore all those who are passionate about their school to respect each other and support their Universities in a positive manner." "Baylor and TCU are two outstanding Universities who have great respect for one another, academically and athletically, and it is most disappointing that the actions of a few cast a negative light on a rivalry that dates back more than a century," McCaw said. "Public safety officials on both campuses are investigating these senseless acts of vandalism and unacceptable behavior."
The TCU-Baylor rivalry indeed dates back more than a century. The two programs battled for decades in the old Southwest Conference, and when the league disbanded in the mid-1990s, Baylor was controversially accepted into the newly formed Big 12, while TCU was left out.
The Horned Frogs joined the Big 12 during the latest round of conference realignment four years ago. Since, TCU and Baylor have become the conference's surprise football leaders over traditional powers Texas and Oklahoma.
Last season's brilliant game came down to the wire, won on a Baylor field goal after the Bears rallied from a double-digit deficit in the fourth quarter. The teams shared the conference championship, a fact that didn't sit well with Baylor coach Art Briles, but both were left out of the playoff.
TCU is currently ranked No. 2 in the nation in the AP top 25 poll and will play at Kansas State on Saturday night. Baylor, ranked No. 4, plays at the Kansas.
MORE NEWS: Want stories delivered to you? Sign up for our College Football newsletters.