A former San Diego Charger thinks the Ravens owe him a 2012 Super Bowl ring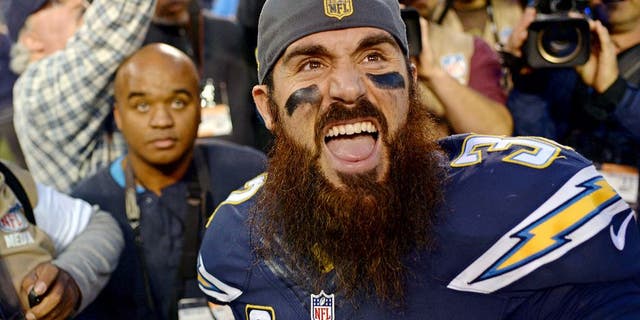 NEWYou can now listen to Fox News articles!
Eric Weddle had a not-so-amicable departure from the San Diego Chargers this offseason after the team, namely head coach Mike McCoy, made it clear they didn't want the three-time Pro Bowler back for another year. It led to some bad blood between Weddle and the Chargers, with the safety saying in January that he "probably won't speak to them again."
There's no doubting he had a great career in San Diego, but one of the most embarrassing plays in franchise history came at the hands of Weddle. And it likely gave the Baltimore Ravens a Super Bowl.
In November 2012, the Ravens were facing a crucial fourth-and-29 with 97 seconds remaining in the game. Ray Rice caught a short pass over the middle and somehow gained 30 yards for a first down, setting up the eventual game-tying field goal.
Weddle was one of the players who failed to tackle Rice on the play, mainly because he was knocked out by Anquan Boldin's crushing block. But he hasn't since forgotten the conversion, and believes his new team owes him some hardware for it.
"The joke is if I make that tackle, the Ravens wouldn't have won the Super Bowl," Weddle said via ESPN. "So, I'm still waiting for my ring."
Weddle remembers thinking how foolish the play was at the time, only to realize how quickly it turned into one of the most memorable in both franchises' histories.
"I just remember the ball checking down and I'm like, 'This is the dumbest decision [quarterback Joe] Flacco could ever make because he checked the ball down on fourth-and-29," Weddle said. "He had to think it was a dumb decision at the time, too."
The Pro Bowl safety actually thought he made the tackle but didn't remember anything from the moment he was hit to walking into the locker room. Weddle doesn't have hard feelings about the play and believes he's in Baltimore "for a reason" now. Maybe he'll do one of the few things he never accomplished in San Diego: win a Super Bowl.