5 Guys You Must Draft & 5 Guys You Must Avoid in 2016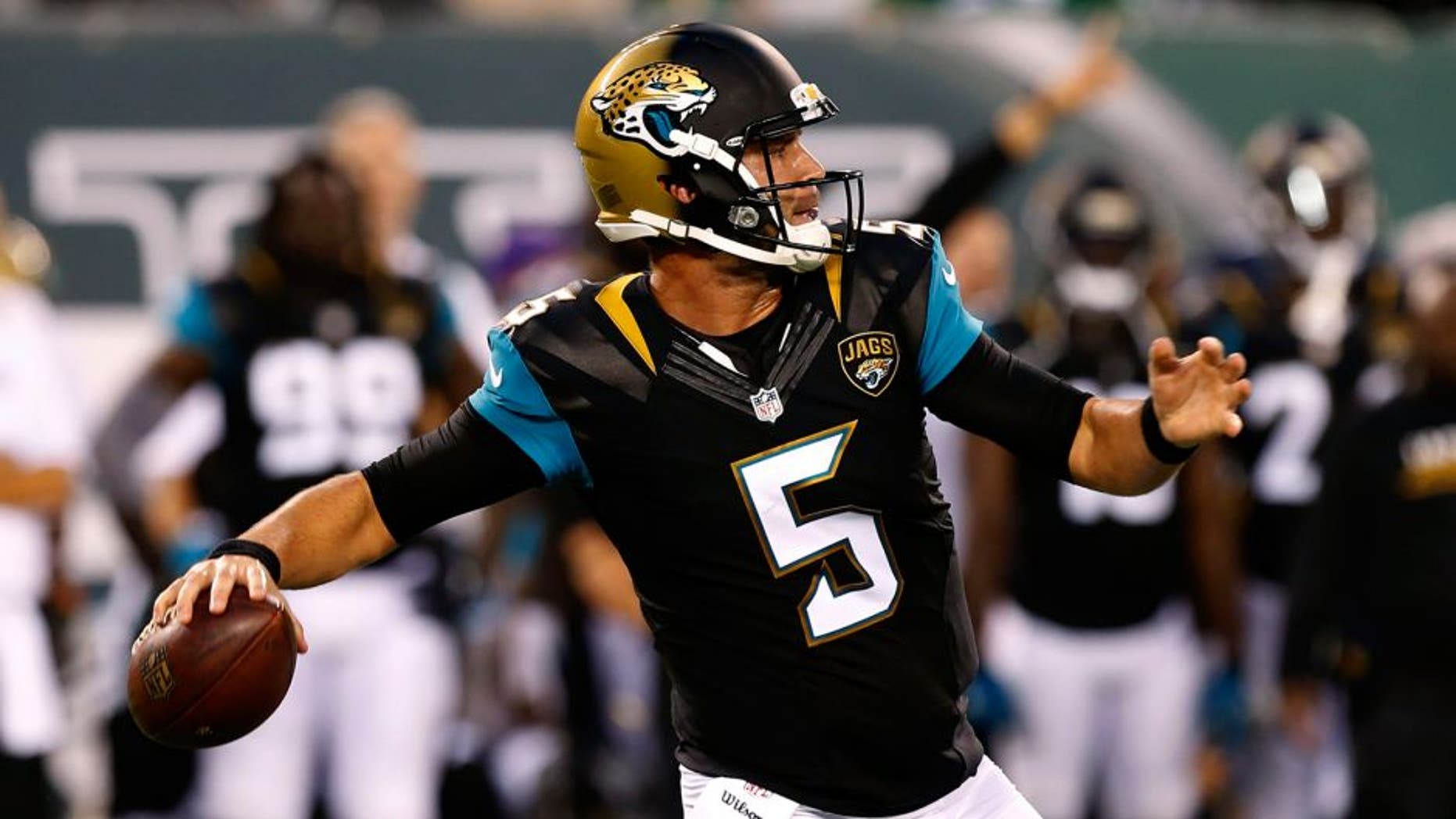 Everybody has their favorites and least favorites going into the fantasy football draft. When you enter the draft room, you (should) immediately start adding names to the queue list while also creating "cut-off points" to positions. That way, you know who is the minimum talent you are willing to draft at a certain position without having to compromise your gameplan.
This is a glimpse at my queue, as I provide you with my five must-drafts as well as my five to avoid this season on draft day.
5 Guys I'm Drafting
Sterling Shepard, NYG
Shepard. He's so hot right now. Shepard. With Odell Beckham Jr. as the No. 1 receiver in New York, Shepard will have a great role model and someone to attract the attention of the defense. In his final season at Oklahoma, Shepard caught 86 passes for 1,288 yards and scored 11 TDs.
Blake Bortles, JAC
Hard to say that I'm dedicating the one starting spot on my fantasy teams to one player, but that just might be the case in 2016. Last year, Bortles tallied the third-most fantasy point among QBs and was only 1.4 points behind Tom Brady. Bortles currently has an average draft position of 87, which is in the eighth-round (12-team leagues). Will he throw 35 TDs? Probably not. However, even with a regression, Bortles will be a Top 10 QB in 2016.
Kenneth Dixon, BAL
Baltimore has been the source of bad luck when it comes to injuries. The Ravens led the league with 23 players on the IR list in 2015. Justin Forsett landed on that list last year when he broke his arm last November. If the injury bug bites in 2016, look for Dixon to get his shot in the Baltimore backfield. With an ADP in the 11th-round (132nd overall), Dixon is a low-risk pick with, potentially, a high ceiling.
One Saints Target
Whether you take a high pick on Brandin Cooks or wait on Michael Thomas, you should try to own one option from New Orleans. The Saints threw the ball 63.8 percent of the time (seventh-most). Drew Brees led the league in passing yards for four of the past five seasons. The one year he didn't have the most passing yards, 2013. That was the season Brees finished second with 5,162 passing yards (Peyton Manning had 5,477). I would also add Coby Fleener to that list of receiving targets, too.
C.J. Prosise, SEA
I'm definitely taking a rookie running back in the 2016 draft. I've already mentioned Dixon and, yes, Ezekiel Elliott is part of this group, too. With Marshawn Lynch's early retirement, someone needs to fill his cleats. Thomas Rawls is listed first on the Seahawks' depth chart, but just came off of the PUP list after breaking his ankle last December. Seattle knew they needed some competition at the running back spot when they drafted Prosise in the third round. In his final season at Notre Dame, Prosise rushed for 1,032 yards and scored 11 TDs on 6.6 yards per carry.
5 Guys I'm NOT Drafting
David Johnson, ARI
I'm already looking at a wide receiver with my first-round pick. However, if I had to take a running back, Johnson would be low on my trust list. He had a great three-game stretch in December (99, 92, and 187 yards). That's it. Those were also the only games where Johnson carried the ball more than 15 times. Can he be good? Absolutely. I'm I willing to tag him with my first round pick? Absolutely not.
Frank Gore, IND
The 33-year-old RB rushed for 967 yards in his first season with the Colts. In his 11 years of football, Gore has tallied at least 900 rushing yards in nine of them. Unfortunately, the decline is here. In 2015, Chuck Pagano had Gore on a "pitch count" where he limited the carries for the No. 1 back. This year, the phrase "managing his carries" has been used. That's not good news for Gore's fantasy value. While he doesn't have much competition right now (Robert Turbin and Jordan Todman), don't be surprised to see one, or more, emerge later in the season (cough*Josh Ferguson*cough).
Demaryius Thomas, DEN
As a Broncos' fan, it pains me to write this, but the quarterback situation in Denver is murky. If Mark Sanchez wins the job in Denver, which seems to be the case, the wide receivers for the Broncos will drop in production. DT has registered at least 1,300 yards in four consecutive seasons. In Sanchez's "best" year in the NFL, 2011, he threw for 3,474 yards. That season, Dustin Keller led the Jets with 815 receiving yards. Santonio Holmes was second on the team with 654 yards.
Teddy Bridgewater, MIN
I gloat when I'm right and I'll admit it when I'm wrong. Last year, I was dead wrong about Bridgewater. I predicted the Vikings' QB would throw for over 4,000 yards in his first full season with Adrian Peterson. I was off by 769 yards. Instead, Peterson had 327 rushing attempts. If AP gets hurt, I might buy some Bridgewater stock. Until then, I'm passing on the QB with the running offense.
Jeremy Langford, CHI
Matt Forte is gone, so this is Langford's team, right? Not exactly. Langford ended last season with a 3.6 yards per carry average. Only Melvin Gordon (3.5) and Matt Jones (3.4) were worse. Now, there is talks that Ka'Deem Carey is stealing...um...carries. Also, the Bears have Jaquizz Rodgers to help out in the passing game. Langford's ADP is around the end of the fourth round (49th overall). That's too high for me.