Your next job: asteroid miner?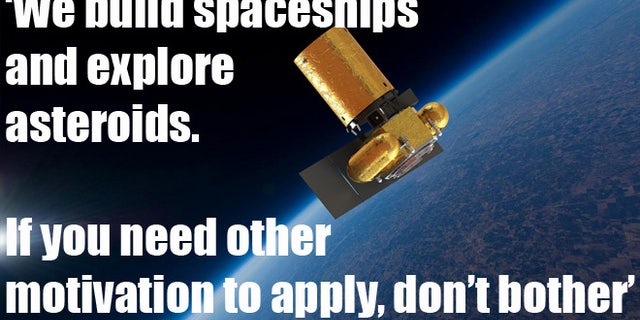 NEWYou can now listen to Fox News articles!
Looking to reboot your life?
A new asteroid mining venture backed by Silicon Valley titans and filmmaker James Cameron is hiring.
Planetary Resources, Inc., announced Tuesday at a news conference in Seattle that it wants to mine near-Earth asteroids for water and precious metals like gold and platinum within the next 10 years if all goes as planned. And the brand-new company is looking for a helping hand.
[pullquote]
"Since my early teenage years, I've wanted to be an asteroid miner. I always viewed it as a glamorous vision of where we could go," company founder Peter Diamandis told reporters at the Museum of Flight in Seattle.
Diamandis hopes others share his passion for space exploration: The company website is now accepting applications for a "few good asteroid miners," to help the firm find new ways to "explore space beyond Earth orbit."
"Bottom line -- we build spaceships and explore asteroids. If you need any other motivation to apply, don't bother," the site states.
Company representatives did not respond to FoxNews.com requests for specific job details, such as how much an asteroid miner will earn or what qualifies one for such an out-of-this-world job. But one insider familiar with the company's plans doubts they're looking for miners at all.
"They aren't hiring asteroid miners," he told FoxNews.com. "They're hiring aerospace engineers to design a low-Earth orbit micro-satellite space telescope to look for asteroids."
[summary]
More information can be gleaned from the site, where prospective applicants must fill out a litany of short-answer questions proving their love for space, describing their soldering skills and even proffering the name they'd give to a hypothetical crash dummy.
If such plans seem fanciful or even outrageous, it's because they very well could be.
Several scientists not involved with the project said they were simultaneously thrilled and wary, calling the plan daring, difficult -- and very pricey. They don't see how it could be cost-effective, even with platinum and gold worth nearly $1,600 an ounce. An upcoming NASA mission to return just 2 ounces (60 grams) of an asteroid to Earth will cost about $1 billion.
But the entrepreneurs behind Planetary Resources have a track record of profiting off space ventures. Diamandis and co-founder Eric Anderson pioneered the idea of selling rides into space to tourists, and Diamandis' company offers "weightless" airplane flights.
Investors and advisers to the new company include Google CEO Larry Page and Executive Chairman Eric Schmidt and Cameron, the man behind the blockbusters "Titanic" and "Avatar."
"The pursuit of resources drove the discovery of America and opened the West," Schmidt said in a statement on the site. "The same drivers still hold true for opening the space frontier."
Anderson says the group will prove naysayers wrong. "Before we started launching people into space as private citizens, people thought that was a pie-in-the-sky idea," Anderson said. "We're in this for decades."
For those serious about a career in space mining, Planetary Resources said it has "immediate needs" in the following areas: 1) guidance, navigation, and control; 2) flight and ground software; and 3) optical and laser systems."
But remember, mining asteroids is no walk in the park.
"You will get your hands dirty," the site warns. "If you prefer your hands clean, go somewhere else."