Young genius: Winners of 2012 Google Science Fair announced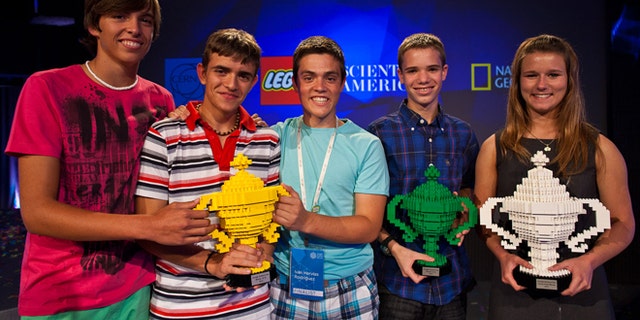 NEWYou can now listen to Fox News articles!
They are some of the best ideas in the world -- and the inventors have yet to graduate from high school.
Google announced the winners of the 2012 Google Science Fair Tuesday morning, highlighting the work of 21 students, some as young as 13, and the innovative projects they developed -- from cancer research to vertical farming to 3D electronics to dementia research.
Grand prize winner Brittany Wenger, a 17-year-old high school junior from Lakewood Ranch, Fla., built a cloud-based tool to help doctors accurately diagnose breast cancer. The software compares individual test results to an extensive dataset stored online, allowing doctors to assess tumors using a minimally-invasive procedure.
"My enthusiasm for science continues to blossom," Wenger said in a recent interview. "I expect to major in computer science when I attend college and continue to medical school."
[pullquote]
Jonah Kohn, a 14-year-old from San Diego, Calif., won in his age group for creating a device that converts sound into tactile vibrations. It aims to make music for the hearing impaired.
"I'm passionate about music and have been playing the guitar for five years," Kohn explained. "The goal of my device is to improve the quality of life for people with hearing loss, especially severe hearing loss."
A trio of 15- and 16-year-olds won in the final age group for a project to study the hidden microscopic life in a drop of fresh water. Iván Hervías Rodríguez, Marcos Ochoa and Sergio Pascual sought to explain how those organisms influence our environment.
"The judges were impressed with the quality of all the projects this year -- and by the ingenuity, dedication and passion of the young scientists who created them," wrote Google's Cristin Frodella in a blog post announcing the winners.
We applaud every contestant who submitted a project to the 2012 Google Science Fair and look forward to seeing the innovations, inventions and discoveries of young scientists in the years to come."
In the 2011 inaugural event, three young women beat out some of the country's smartest youngsters with projects studying carcinogen levels in grilled chicken (depending on sauce type), studying the effect of the environment indoors on reliance on asthma medication, and improving ovarian cancer treatment.
"This year was all about girl power," Google said at the time.
Thousands of teenagers from more than 100 countries entered the annual event, which claims to welcome all mavericks, square-pegs and, in general, anyone who likes to ask questions.
More information on the winners and finalists is available on Google's website.