World's first genetically edited babies? International outrage ensues as Chinese scientist makes bold claim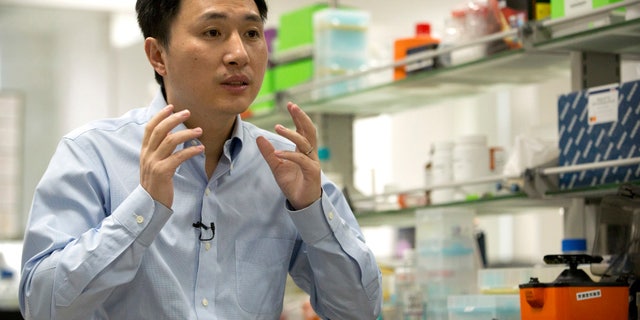 A Chinese researcher claims that he helped make the world's first genetically edited babies — twin girls born this month whose DNA he said he altered with a powerful new tool capable of rewriting the very blueprint of life. The claims have resulted in international outrage and the university where the researcher is working said the work "has seriously violated academic ethics and codes of conduct."
The researcher, He Jiankui of Shenzhen, said he altered embryos for seven couples during fertility treatments, with one pregnancy resulting thus far. He said his goal was not to cure or prevent an inherited disease, but to try to bestow a trait that few people naturally have — an ability to resist possible future infection with HIV, the AIDS virus.
He said the parents involved declined to be identified or interviewed, and he would not say where they live or where the work was done. News of the research was first reported by the Associated Press. Jiankui's claim has not been backed up in a peer-reviewed scientific journal, nor is there any independent confirmation.
CRISPR DNA EDITING COULD DO SOME SERIOUS GENETIC DAMAGE, STUDY SAYS
Southern University of Science and Technology, where Jiankui works, issued a statement, seemingly condemning the claim.
"The University was deeply shocked by this event and has taken immediate action to reach Dr. Jiankui HE for clarification. Dr. Jiankui HE's previous affiliation, the Department of Biology (hereafter the Department) called an emergency meeting of the Department Academic Committee," the university said in a statement.
The university wanted to make it clear that there were three takeaways from its statement:
1. The research was conducted outside of the campus and was not reported to the University nor the Department. The University and the Department were unaware of the research project and its nature.
2. The SUSTech Department of Biology Academic Committee believes that Dr. Jiankui HE's conduct in utilizing CRISPR/Cas9 to edit human embryos has seriously violated academic ethics and codes of conduct.
3. All research conducted at SUSTech is required to abide by laws and regulations, and comply with international academic ethics and codes of conduct.
"The University will call for international experts to form an independent committee to investigate this incident, and to release the results to the public," the university added.
Others called for extensive scrutiny regarding Jiankui's claims, including one of CRISPR's co-inventors, Dr. Jennifer Doudna of UC Berkeley, who said that the work needs to be verified before it can be substantiated.
"If verified, this work is a break from the cautious and transparent approach of the global scientific community's application of CRISPR-Cas9 for human germline editing," Dr. Doudna said.
"It is essential that this report not cast an untoward shadow on the many important ongoing and planned clinical efforts to use CRISPR technology to treat and cure existing genetic, infectious, and common disease in adults and in children," Dr. Doudna added. "It is also important that public and transparent discussion of the many uses of genome editing technology continue, as is happening over the next three days at the Human Genome Editing Summit in Hong Kong."
It's "unconscionable ... an experiment on human beings that is not morally or ethically defensible," said Dr. Kiran Musunuru, a University of Pennsylvania gene editing expert and editor of a genetics journal.
"This is far too premature," said Dr. Eric Topol, who heads the Scripps Research Translational Institute in California. "We're dealing with the operating instructions of a human being. It's a big deal."
FUTURISTIC GENE EDITING TECHNOLOGY MAY CAUSE CANCER
In addition, more than 100 scientists signed a petition for greater oversight on gene editing experiments in light of Jiankui's claim and city officials where the lab is located have also launched a medical and ethics investigation.
Speaking with the AP, Jiankui said that he felt a "strong responsibility that it's not just to make a first, but also make it an example," adding that "society will decide what to do next" whether it will be allowed or forbidden.
Jiankui posted a video to YouTube to discuss the claim and its implications.
Follow Chris Ciaccia on Twitter @Chris_Ciaccia