What is an atmospheric river? Powerful storm to drench California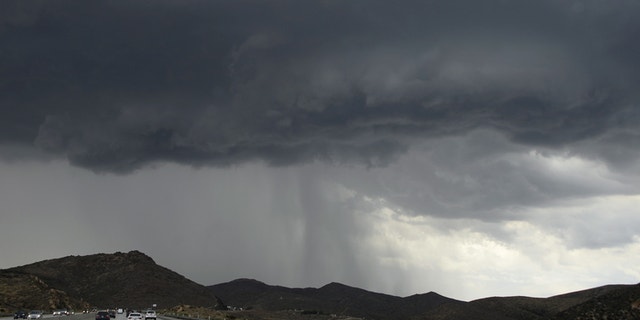 California residents, brace yourselves: an atmospheric river could continue to bring rain to multiple parts of the state this week.
Read on for a look at the meteorological phenomenon -- and what to expect from the storm.
"Rivers in the sky"
An atmospheric river is a huge plume of subtropical moisture.
"Atmospheric rivers are relatively long, narrow regions in the atmosphere – like rivers in the sky – that transport most of the water vapor outside of the tropics," the National Oceanic and Atmospheric Administration (NOAA) says.
"When the atmospheric rivers make landfall, they often release this water vapor in the form of rain or snow," according to the agency.
They may also bring severe precipitation and destruction, though "most are weak systems that often provide beneficial rain or snow that is crucial to the water supply."
The NOAA says atmospheric rivers are typically 250 to 375 miles in width.
CALIFORNIA MUDSLIDES: WHERE AND WHY THEY HAPPEN
What's going on with California?
The storm continued to spread rain March 22, swelling rivers, flooding streets and causing some mud and rockslides -- but so far sparing communities a repeat of the disastrous debris flows that hit during a downpour in early 2018.
The National Weather Service (NWS) issued flood warnings along foothills on the western flank of the Sierra Nevada and there were numerous reports of street flooding in Central Valley cities including Fresno and Clovis.
Santa Barbara County tweeted that mandatory evacuation orders would be lifted at 5 p.m.
In Los Angeles County, authorities canceled some planned mandatory evacuations because of a projected decrease in rainfall but kept others in place because of debris flows in one canyon area stripped bare by wildfires.
The Associated Press contributed to this report.