WATCH: Royal Navy detonates 1,100-pound World War II bomb found in the River Thames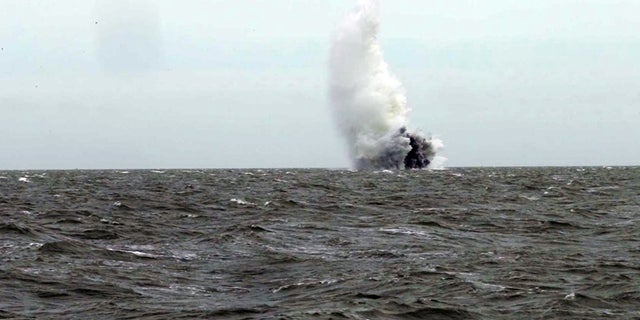 Royal Navy bomb disposal experts have detonated a large wartime device that was recently discovered in the River Thames.
The 500 kg (1,102 pound) bomb was found in the George V Dock in North Woolwich during construction work at the London City airport early on Sunday. The discovery of the large German bomb prompted the closure of the airport, as well as the evacuation of nearby residents from their homes.
Royal Navy bomb disposal divers were called to the scene and, working with the British Army and the Metropolitan Police, made the bomb safe before removing it on Monday. The bomb, a 5-foot-long tapered end shell, was floated down the River Thames and taken to a Ministry of Defense facility at Shoeberryness in Essex.
HOW A TRUCK DRIVER FIGURED OUT SPECS FOR THE ATOMIC BOMB
Bad weather prevented the Royal Navy from detonating the bomb in the waters off Shoeberryness Tuesday. The device was successfully blown up on Wednesday, sending a large plume of water into the air.
"The operation to remove the Second World War bomb from London City Airport was extremely successful," explained Royal Navy Lieutenant Commander Jonny Campbell, the officer in charge of the bomb disposal unit, in a statement. "My team worked incredibly hard to ensure public safety remained the priority at all times."
"Royal Navy bomb disposal experts are called out roughly every 18 hours to incidents such as this and we are well trained and well placed to deal with them," he added. "We are pleased that London City Airport was able to reopen yesterday while we safely detonate the device well away from any public areas out at sea."
USS WARD, SHIP THAT FIRED FIRST AMERICAN SHOTS OF WORLD WAR II, FOUND IN PHILIPPINES
Last year, a large part of Central London was shut down while the Royal Navy removed a suspected World War II bomb from the River Thames near the Houses of Parliament.
Follow James Rogers on Twitter @jamesjrogers