Was Santa Claus' grave discovered? Experts may have found final resting place of St. Nicholas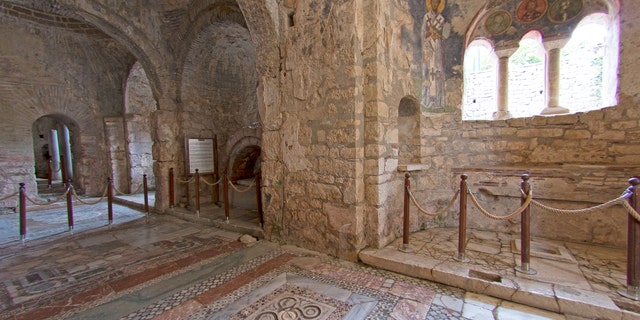 Archaeologists may be close to finding the grave of St. Nicholas beneath a church in southern Turkey.
St. Nicholas, a 4th-century Greek Bishop who became famous for his acts of generosity, is the historical inspiration for Santa Claus. On the Saint's death in 343, he was buried in a church in the ancient city of Myra. The modern Turkish town of Demre now stands on the site once occupied by Myra.
LOST ROMAN CITY THAT WAS HOME TO JESUS' APOSTLES FOUND, SAY ARCHAEOLOGISTS
Experts say they have likely identified the Saint's tomb beneath the ancient St. Nicholas Church in Demre. Cemil Karabayram, Director of Surveying and Monuments for the province of Antalya, told the Hurriyet newspaper that electronic surveys have revealed a "special section" beneath the church that may contain St. Nicholas's tomb.
"We will reach the ground and maybe we will find the untouched body of St. Nicholas," he told Hurriyet. "We appointed eight academics of different branches to work here."
EARLY CHURCH DISCOVERED ON UK HOLY ISLAND, MAY BE LINKED TO MEDIEVAL SAINTS
Archaeologists are employing CT-scanning technology and geo-radars in the church. They are now planning to carefully remove mosaics from the stone floor of the church before they can access the grave believed to contain St. Nicholas's body.
It has long been believed that the Saint's bones were removed from the Demre site in the 11th century and taken to Bari in Italy, where the Basilica di San Nicola was built to house the remains.
CHRISTIAN SAINT'S BONES UNEARTHED IN MONASTERY DESTROYED BY ISIS
Citing records studied by the archaeologists, however, Karabayram says that another set of remains may have been taken to Italy. The church where the Saint's bones were originally interred was rebuilt during the 11th century, records say. "According to these notes, this church was demolished and rebuilt," Karabayram told Hurriyet. "During the reconstruction, traders in Bari took the bones. But it is said that these bones did not belong to St. Nicholas but to another priest."