Volcano lights up snowy sky in stunning photo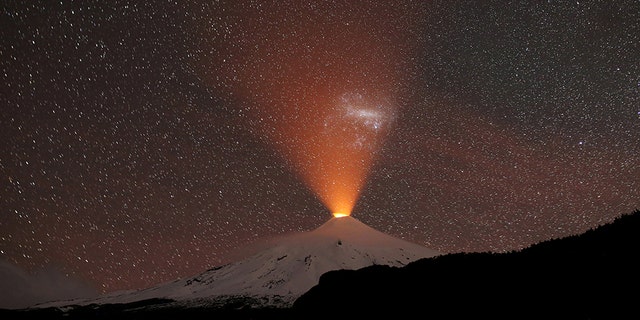 An incredible photo shows the Villarrica volcano in Chile lighting up a snowy sky.
The photo was taken from the nearby city of Pucon on Sept. 2. One of South America's most active volcanoes, Villarrica's last eruption was in March 2015. The eruption prompted authorities to evacuate thousands of people from the local area.
KILAUEA VOLCANO GLOW CAPTURED ON TIME-LAPSE CAMERA
The photo appears to show the glow from the lava lake in Villarrica's crater.
The 9,000-foot volcano is located in Chile's central valley, 400 miles south of Santiago, and sits above the small city of Pucon.
HAWAII VOLCANO: KILAUEA LAVA BOILED AWAY BIG ISLAND'S LARGEST FRESHWATER LAKE
The first recorded Villarrica eruption was in 1558, according to Oregon State University. There have been at least 54 small-to-moderate eruptions recorded at the volcano and two moderate-large eruptions - in 1640 and 1948, according to OSU. There have been four fatal eruptions recorded at Villarrica, researchers say.
The Associated Press contributed to this article.
Follow James Rogers on Twitter @jamesjrogers