Virginia fisherman spots 'huge' shark eating rotting whale carcass: 'Here comes Jaws'
Returning to the Virginia Beach shore following an afternoon of fishing with friends, Jonathan Carter was sure the floating mass off in the distance was a tipped over sailboat.
"We were trying to beat the weather and had heard the Coast Guard throughout the day trying to contact a sailboat," Carter recalled to Fox News on Tuesday. As the group closed in on the object, however, Carter realized it wasn't a boat at all. It was the carcass of a massive whale.
MOM SAYS IT'S A MIRACLE TEEN SON SURVIVED SHARK ATTACK
"We took a look at it on our way in; it was a dead whale," Carter said, noting the creature's intestines were floating alongside its body and the stench coming off the animal "smelled like rotting fish."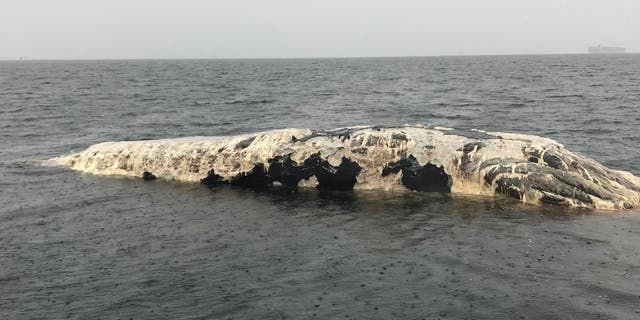 Just moments later, the Newport-News resident noticed a sharp dorsal fin heading toward the whale, a "huge" great white shark encroaching upon what was possibly its next meal.
"We pulled up to it to check it out and here comes Jaws," he said.
To the fisherman's surprise, a second but smaller great white shark headed toward the carcass as well. Carter said the sharks appeared to be calm and weren't aggressive with one another -- possibly because the large carcass meant there "was plenty to go around for everyone," he said.
Other boats and fisherman soon approached the creature, one of whom – Mark Sterling – was called by Carter himself.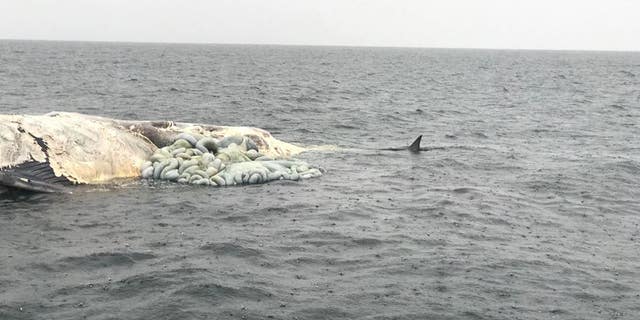 "It was badly deteriorated," Sterling told The Virginian-Pilot of the whale, estimating it was 50-feet in length.
HUGE SHARK SWIMS BY SCIENTISTS IN ATLANTIC AS THEY DISCOVER COLORFUL NEW FISH
"I've never seen something like this before, and I've been on the water a lot," Carter said, adding he's seen both great white sharks and whales in the past but has never witnessed the former eating the latter.
"It was pretty cool," he added.