UFO Buzzes Busy Street Down Under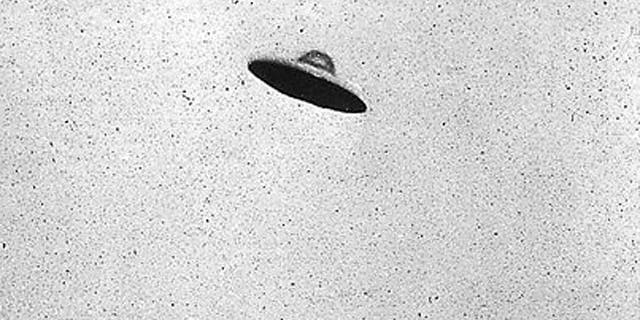 NEWYou can now listen to Fox News articles!
A Sydney woman is claiming to have photographed UFOs that appeared above a busy street in Australia's largest city.
Mother-of-two Fiona Hartigan said the strange flying discs were gone in a few seconds, but she managed to capture a few images on her iPhone.
They emerged from a blazing light in the clouds, descending on a busy Sydney street before zipping off silently into the sunset. Hartigan said she had just got out of her car on Sunday evening to snap a few sunset photos on her iPhone when the amazing events began.
"As I was about to take the picture this black object appeared and then it started to move," she said. "It started off about 800m away but it came closer -- to about 400m -- and then two other little round things appeared from this bright orange light above.
"There was no noise. It was calm and peaceful but it was very weird."
Hartigan said the main UFO then "shot off" above Governor Macquarie Drive at Chipping Norton, in Sydney's south-west, with the smaller UFOs zipping away in the opposite direction.
"I don't know how to explain it -- I'm still totally bewildered," she said.
To the sceptic, Hartigan's photo might show a speck of dust on the lens or something small floating in the air close to the camera. But close encounters like Hartigan's came as no surprise to UFO Research NSW spokesman Doug Moffett: "It could be some electrical anomaly that no one has ever seen, it could be an extra-terrestrial craft, it could be something else.
"There does appear to be a blur around the image, which could just be the way it's shaped, or -- and this is pure speculation -- it could be due to its propulsion system." She added, "Whatever the case, it's an opportunity to learn something new."
Moffett said there were between 1,000 and 1,500 UFO sightings in Australia every year, "but that is just the tip of the iceberg."
"Why would anyone make these stories up? They are setting themselves up for ridicule," he said. Hartigan told community newspaper The Liverpool Leader that the Bureau of Meteorology told her no weather balloons were present in the area on that day.
She said she believed the objects were life forms from another planet.
"I believe in other life forms, put it that way," she said. "God might have created everything around us and our planet, but we would never know if he created something else."
To see the picture, visit The Daily Telegraph.