Tsunami Warning Lifted Following Major Indonesian Quake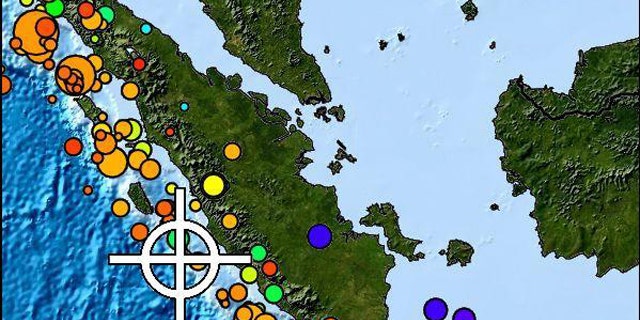 NEWYou can now listen to Fox News articles!
A tsunami warning was issued for Indonesia following a major, magnitude 7.5 earthquake off the coast of western Sumatra -- where a massive earthquake and tsunami hit in 2004 -- but no injuries were reported.
According to a bulletin issued by the Pacific Tsunami Warning Center, the tsunami warning was in effect for Indonesia, not for the wider Indian Ocean region, but the warning was lifted without causing major damage.
The quake struck at 9:42pm local time (1642 GMT) at a depth of just 8.8 miles (14.2 km), making it an extremely shallow one by the USGS classification system. It was reportedly felt in five towns in Bengkulu and West Sumatra provinces, but so far there no reports of damages or casualties, said Tatok Yatimantoro of Indonesia's Meteorology and Geophysics Agency.
The world's largest archipelago, Indonesia is prone to earthquakes and volcanic activity due to its location on the so-called Pacific Ring of Fire. In December 2004, a tsunami caused by an earthquake of more than 9 magnitude off Sumatra killed more than 226,000 people. It was the deadliest tsunami on record.
The Associated Press contributed to this report.